#ncsen: Monmouth U. poll says Hagan 48, Tillis 46, Haugh 1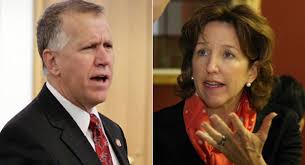 This survey was taken October 23-26 and involved 432 likely voters in North Carolina.  It has a margin of error of +-4.7 percent.  Here is some of the pollster's take: 
The Monmouth University Poll finds incumbent Senator Kay Hagan leading her challenger
Thom Tillis by a narrow two points among likely voters in North Carolina. In what may end up as the
most expensive U.S. Senate race in history, in part due to outside expenditures on attack ads, Hagan is
seen as the more trusted candidate. The poll also finds a smaller than normal gender gap in the race
which tips the scales slightly in the incumbent's favor.[…] 

The Monmouth University Poll finds a gender gap in this race that is not as large as in many other
senate races across the country. Male voters in North Carolina tilt slightly Republican in their U.S.
Senate vote – 49% support Tillis and 45% support Hagan. Women voters are more likely to back Hagan
over Tillis by a 50% to 44% margin.

"In many ways, this race has been a battle for the women's vote. Hagan has attacked Tillis on
pay equality while Tillis has attacked Hagan for being soft on terrorism. The gender gap appears to be the
tipping point in North Carolina, but it is not as wide as other Senate races we polled this year," said
Patrick Murray, director of the independent Monmouth University Polling Institute in West Long Branch,
New Jersey.

The poll also finds that voters prefer Hagan on a key personal quality. When asked which
candidate is honest and trustworthy, 35% say Hagan and 24% say Tillis, while 6% say both and 30% say
this describes neither candidate.

North Carolina voters are divided on which party they would like to see in control of the U.S.
Senate – 41% prefer the Democrats, 38% prefer the Republicans, and 18% say it makes no difference.
These voters hold a negative opinion of Barack Obama, with just 41% who approve of the job he is doing
as president and 54% who disapprove. […]
The poll finds  Tillis leading 55-40 among white, non-Hispanic voters and independents by 50-41. Hagan leads 78-16 among voters of "other races and Latino backgrounds."  Both major party candidates are drawing 89 percent support from their respective parties.
This is a lot of what you'd expect when you are selling party ID (R or D) and personalities (Barack Obama) to the voters. It's like choosing the Giants or the Royals, the Tar Heels or Blue Devils, or Panthers or Redskins.