#NCSEN: High Point U. poll says Hagan 42, Tillis 40, Haugh 6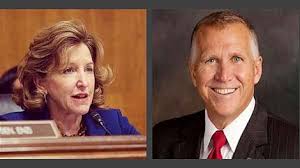 Even though Kay Hagan is on top here, this survey represents some of the best polling news in weeks for Thom Tillis. The survey — 410 likely voters from 9/13 to 9/18 — has a margin of error of roughly +-5 percent.  THAT puts things in too-close-for-comfort territory for the incumbent Hagan.
High Point's poll says 12 percent of respondents were "undecided" on the race.
Hagan's approval favorable / unfavorable came in at 39/50.  As a comparison, Republican Richard Burr's stood at 34/31. (35 percent said they didn't know what to think of Burr.)
So far, in the month of September, Hagan has polled with leads over Tillis ranging from 4 to 10 points. The two outliers are this survey from High Point University, and a Civitas survey from 9/10 showing Hagan with a ONE point lead.
The last poll giving Tillis a lead was a CBS News poll at the end of August that had the GOP challenger up by ONE over the Democrat incumbent. Before that, you have to go back to a Civitas poll at the end of July showing Tillis up by TWO and to the first week of August where a Rasmussen poll gave Tillis a FIVE point lead.  The two major party candidates debated on live television the evening of September 3.