#ncsen: Gravis Marketing says Tillis 48, Hagan 43, Unsure 9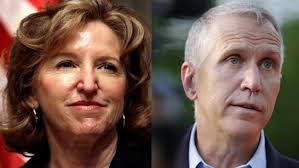 They conducted this survey of 1022 likely North Carolina voters in partnership with the conservative web site Human Events.  (Respondents were only given two names to choose from.  There will be a third name on the ballot, Libertarian Sean Haugh, plus THREE write in candidates who can be considered.) The margin of error is +-3 percent.  The polling took place October 16 to October 18. 
Interestingly, the findings for a 2016 head-to-head matchup between Rand Paul (48) and Hillary Clinton (42) nearly matched the partisan breakdown for the 2014 US Senate race.
The poll found Pat McCrory leading Democrat Roy Cooper 49-41 in a test of a potential 2016 general election matchup for governor.  The poll also found a 37-57 approve-disapprove rating for President Obama in North Carolina.
A poll conducted by Gravis about this time in 2012 showed Romney carrying North Carolina by 53-45.  (His final margin turned out to be 50.6 percent to 48.4 percent.) Right there at that 3 percent MOE.