#NCSEN: Democrat poll says Hagan 48, Tillis 45 (Um, Haugh ????)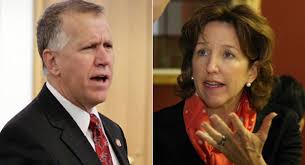 The Democrat Senatorial Campaign Committee has released a head-to-head matchup poll showing incumbent senator Kay Hagan leading her challenger Thom Tillis 48-45.  (There is a 3.5 percent margin of error.  So, basically, we have another tie.)  The problem?  The poll does not ask about Libertarian Sean Haugh, who has been polling between 5 and 10 percent lately.  Nor does it bother testing the three qualified write-in candidates:  John Rhodes, David Waddell, and Barry Gurney. 
Surely, this was tossed out there to counter the poll released earlier by Tillis pollster Glen Bolger. 
So, how does all of this stack up to this time in 2008?   (The first thing to keep in mind is that there was a presidential and gubernatorial race that was affecting turnout and enthusiasm on both sides.)  By 8/19/08, Hagan and Dole had reached their first tie in the polls.  (Dole had consistently led all previous polls — except one.) In the five polls taken from 8/20 to 9/10, Hagan led three of them by margins of 1 to 5 points.   (SurveyUSA and Research2000 each produced polls showing Dole with a 6 and 8 point lead, respectively.) 
From that point through election day, there were 27 more polls taken.  Hagan was leading in 23 of those 27 — by margins ranging from 1 point to 9 points.  (The four Dole polls had the Republican incumbent with leads ranging from 1 to 4 points.) Hagan ended up winning by 8.5 percent.