#ncsen: Dallas says NO Rove tie. We beg to differ.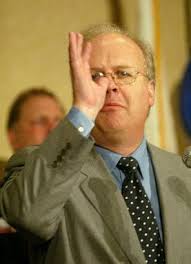 We must have struck a nerve at Carolina RIsing HQ with our earlier post regarding Crossroads Media.  Dallas Woodhouse, the boss at Carolina Rising, sent us this note:
As a Conservative I thank you for your work.

However you post about or organization is simply wrong, and I would ask you note the mistake and take down the post.

Crossroads Media is not founded, related or in anyway to Karl Rove and any of his companies. I have never spoke to him or sent any of his organizations money, other than I personally bought his book. One Copy.

I just wanted to correct the record. Crossroads media is not a releated to the Rove groups, it is just a coincidence.
As a former Washingtonian, I know all about these political groups and their spin-offs.  I worked for Brent Bozell in the early 90s.  In the same building, we had the offices of The Media Research Center, The Conservative Victory Committee, and the PR firm Creative Response Concepts.  All three groups had different names on their letterheads, but they were all controlled by Bozell.  That's one example out of hundreds up there.
Dallas says there is no tie whatsoever between Crossroads Media and Karl Rove's Crossroads GPS and American Crossroads group.  Here's what the Sourcewatch web site has to offer: 
[…] American Crossroads and Crossroads GPS are the largest customers of Crossroads Media LLC, a consultancy that purchases ad slots for political ads. Crossroads GPS, American Crossroads, and a related 501(c)(6) "trade organization" called Americans for Job Security moved over $133 million through Crossroads Media LLC in 2012 in order to make ad buys for the 2012 election. Crossroads Media was co-founded by former Americans for Job Security president Michael Dubke, who is also a partner at Black Rock Consulting, which he co-founded with Carl Forti, the current political director of American Crossroads and Crossroads GPS. Crossroads Media also shares an office with Americans for Job Security.[20] […] 
Oh, and The Huffington Post also has something to offer on this subject: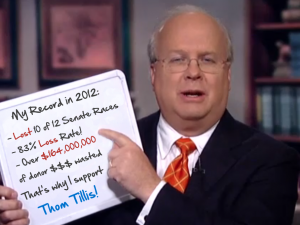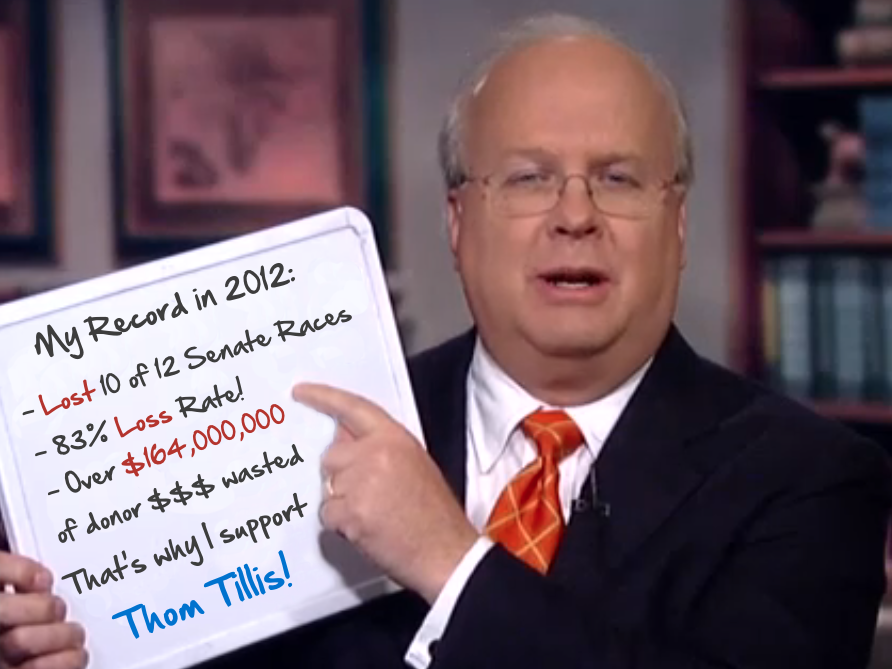 […] Crossroads Media was founded more than a decade ago, but since 2010 it has contracted almost exclusively with American Crossroads, its political nonprofit arm Crossroads GPS and their funding recipients. Its founder, Michael Dubke, also runs a consulting firm with Crossroads political director Carl Forti. The liberal watchdog group PR Watch has called Crossroads Media the "in-house ad purchasing agency for Rove's political empire." […] 
According to The New York Times, Crossroads Media and Karl Rove's American Crossroads group share office space:
Sharing a consultant would seem to be an embodiment of coordination between a candidate and an independent group, something prohibited under federal law. But TargetPoint is just one of a handful of interconnected firms in the same office suite in Alexandria, Va., working for either the Romney campaign or the super PAC Restore Our Future.

Elsewhere in the same suite is WWP Strategies, whose co-founder is married to TargetPoint's chief executive and works for the Romney campaign. Across the conference room is the Black Rock Group, whose co-founder — a top Romney campaign official in 2008 — now helps run both Restore Our Future and American Crossroads, another independent group that spoke up in defense of Mr. Romney's candidacy in January. Finally, there is Crossroads Media, a media placement firm that works for American Crossroads and other Republican groups.

The overlapping roles and relationships of the consultants in Suite 555 at 66 Canal Center Plaza offer a case study in the fluidity and ineffectual enforcement of rules intended to prevent candidates from coordinating their activities with outside groups. And there has been a rising debate over the ascendancy of super PACs, which operate free of the contribution limits imposed on the candidates but are supposed to remain independent of them. […]
The Campaign For Liberty also has some info on this subject:
One of the proponents of the Internet Tax Mandate is a group called "Americans for Job Security." Americans for Job Security is located in Suite 55, Canal Street, Alexandria, VA, space they share with a number of media and political consulting firms, such as the Black Rock Group, Crossroads Media, WWP Strategies, and Target Point Consulting.

Americans for Job Security appears to be working with at least one of its neighbors in trying to raise the prices of goods sold over the Internet. Red State recently reported on a pro-National Internet Tax Mandate e-mail from "Americans for Job Security" that linked to a broken Black Rock URL. It should not be surprising that "Americans for Job Security" would work with Black Rock Group, as they share more than an address.  One of the co-founders of Americans for Job Security is Michael Dubke, who also runs the Black Rock Group with Carl Forti. Forti is political director of Karl Rove's American Crossroads, while Dubke also runs Crossroads Media, which does media work for American Crossroads.

It makes senses that Karl Rove's cronies would be lobbying to pass the Internet Tax Mandate, as the mandate is bad policy and supporting it will further alienate the liberty movement from the GOP establishment.  After all, the same people support Karl Rove's efforts to ensure only establishment-approved candidates win GOP primaries.
And there's THIS from The Sunlight Foundation: 
[…] Crossroads GPS, which does not disclose its donors, reported spending nearly $4 million yesterday opposing eight Democrats in House and Senate races, its biggest day of spending so far. All but one of the targeted candidates — Alexander Giannoulias, who's running for Senate from Illinois — are incumbents. About half the money spent by Crossroads GPS yesterday went toward ads opposing Giannoulias and Patty Murray, running for re-election to the Senate from Washington. Other targets included Harry Reid, Jim Costa and Ciro Rodriguez. Ninety-nine percent of the money spent by Crossroads GPS yesterday went to Crossroads Media. […]
There's a lot more.  (We can keep going, if you like.)