#NCSEN: CBS News / NYT/ YouGov poll shows dead heat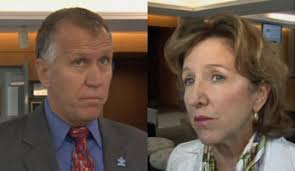 Recent polling from in-state sources like Civitas and Public Policy Polling have showed incumbent Democrat Kay Hagan slowly building a lead over Republican nominee Thom Tillis.  A new national survey put out by two drive-by kingpins tells a different story:
[…] On Sunday, the research firm YouGov, in partnership with The New York Times and CBS News, released the first wave of results from an online panel of more than 100,000 respondents nationwide, which asked them their preferences in coming elections. The results offer a trove of nonpartisan data and show a broad and competitive playing field heading into the final few months of the campaign.

The Republicans appear to hold a slight advantage in the fight for the Senate and remain in a dominant position in the House. They need to pick up six seats to gain Senate control, and they hold a clear advantage in races in three states: South Dakota, Montana and West Virginia. The data from YouGov, an opinion-research firm that enjoyed success in 2012, finds the G.O.P. with a nominal lead in five additional states.

The five states where the Republicans hold a slight lead in the YouGov panel include three Southern ones — Arkansas, Louisiana and North Carolina — where Democratic incumbents face tough re-election contests and where Mitt Romney won in 2012. Republicans also have a slight edge in Iowa and Michigan, two open seats in states that usually vote for Democrats in presidential elections.

The Republican advantage, however, is not especially significant in these states, suggesting that the campaign remains up for grabs. The results are broadly consistent with the Times's forecasting model, which incorporates surveys, fund-raising data and other information, and currently gives the Republicans a 60 percent chance of winning the Senate. […] 
For the record, this survey shows Tillis leading Hagan 48-47 percent with a two percent margin of error.   South Carolina's Tim Scott (54-40) and Lindsay Graham (51-38) are shown with comfortable leads over their Democrat opponents.