#NCSEN: Beating a dead hor — um, sock on "equal pay"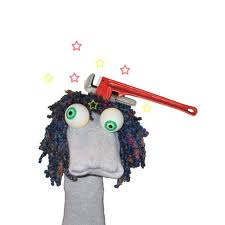 Groceries cost the same for men and women.  So why is Thom Tillis keeping women from being paid as much as men for the same work?
 THAT is the thesis of the latest Super PAC ad promoting the reelection of our very own Senator Sock Puppet™.
Leftists have been spouting this nonsense since they tried to shove the Equal Rights Amendment down our throats in the 1970s.  Barry Obama and his comrades have resuscitated this old chestnut this year to pull his and his party's chestnuts out of the electoral fire. (They've gotten started with the harassment of federal contractors.)  Never mind that Barry pays his GUYS more than his GIRLS.   Never mind that Senator Sock Puppet™ herself pays her girls less than her guys.  *We're talking about the Republicans here, for God's sake! Get with the program!*
How valid is this claim that anti-female discrimination creates a scenario where men are purposely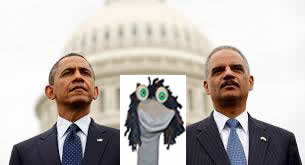 paid more than women?  Let's see:
[…] The 23% gap implies that women work an extra 68 days to earn the same pay as a man. Mr. Obama advocates allowing women to sue for wage discrimination, with employers bearing the burden of proving they did not discriminate. But the numbers bandied about to make the claim of widespread discrimination are fundamentally misleading and economically illogical.

In its annual report, "Highlights of Women's Earnings in 2012," the Bureau of Labor Statistics states that "In 2012, women who were full-time wage and salary workers had median usual weekly earnings of $691. On average in 2012, women made about 81% of the median earnings of male full-time wage and salary workers ($854)." Give or take a few percentage points, the BLS appears to support the president's claim.

But every "full-time" worker, as the BLS notes, is not the same: Men were almost twice as likely as women to work more than 40 hours a week, and women almost twice as likely to work only 35 to 39 hours per week. Once that is taken into consideration, the pay gap begins to shrink. Women who worked a 40-hour week earned 88% of male earnings.

Then there is the issue of marriage and children. The BLS reports that single women who have never married earned 96% of men's earnings in 2012.

The supposed pay gap appears when marriage and children enter the picture. Child care takes mothers out of the labor market, so when they return they have less work experience than similarly-aged males. Many working mothers seek jobs that provide greater flexibility, such as telecommuting or flexible hours. Not all jobs can be flexible, and all other things being equal, those which are will pay less than those that do not.

Education also matters. Even within groups with the same educational attainment, women often choose fields of study, such as sociology, liberal arts or psychology, that pay less in the labor market. Men are more likely to major in finance, accounting or engineering. And as the American Association of University Women reports, men are four times more likely to bargain over salaries once they enter the job market.

Risk is another factor. Nearly all the most dangerous occupations, such as loggers or iron workers, are majority male and 92% of work-related deaths in 2012 were to men. Dangerous jobs tend to pay higher salaries to attract workers. Also: Males are more likely to pursue occupations where compensation is risky from year to year, such as law and finance. Research shows that average pay in such jobs is higher to compensate for that risk.

While the BLS reports that full-time female workers earned 81% of full-time males, that is very different than saying that women earned 81% of what men earned for doing the same jobs, while working the same hours, with the same level of risk, with the same educational background and the same years of continuous, uninterrupted work experience, and assuming no gender differences in family roles like child care. […]

These gender-disparity claims are also economically illogical. If women were paid 77 cents on the dollar, a profit-oriented firm could dramatically cut labor costs by replacing male employees with females. Progressives assume that businesses nickel-and-dime suppliers, customers, consultants, anyone with whom they come into contact—yet ignore a great opportunity to reduce wages costs by 23%. They don't ignore the opportunity because it doesn't exist. Women are not in fact paid 77 cents on the dollar for doing the same work as men.[…]
Let's also hear from Carrie Lukas of the Independent Women's Forum: 
[…] The Department of Labor's Time Use Survey, for example, finds that the average full-time working man spends 8.14 hours a day on the job, compared to 7.75 hours for the full-time working woman. Employees who work more likely earn more.  Men working five percent longer than women alone explains about one-quarter of the wage gap.

There are numerous other factors that affect pay.  Most fundamentally, men and women tend to gravitate toward different industries. Feminists may charge that women are socialized into lower-paying sectors of the economy.  But women considering the decisions they've made likely have a different view. Women tend to seek jobs with regular hours, more comfortable conditions, little travel, and greater personal fulfillment.  Often times, women are willing to trade higher pay for jobs with other characteristics that they find attractive.

Men, in contrast, often take jobs with less desirable characteristics in pursuit of higher pay.  They work long hours and overnight shifts. They tar roofs in the sun, drive trucks across the country, toil in sewer systems, stand watch as prison guards, and risk injury on fishing boats, in coal mines, and in production plants.  Such jobs pay more than others because otherwise no one would want to do them.

Unsurprisingly, children play an important role in men and women's work-life decisions.  Simply put, women who have children or plan to have children tend to be willing to trade higher pay for more kid-friendly positions.  In contrast, men with children typically seek to earn more money in order to support children, sometimes taking on more hours and less attractive positions to do so.

Academics can debate why men and women make these different choices.  The important takeaway, however, is that there are many reasons that men and women on average earn different amounts.  It's a mistake to assume that "wage gap" statistics reflect on-the-job discrimination.[…]
To sum up,  Hagan and Obama's claims are BS.  We've got an economy in the toilet, crushing debt, an invasion on our southern border and Barry, Kay and the drive-bys want to talk about this nonsense that has been kicked around at election time since the 1970s — and it STILL ISN'T TRUE.