#ncpol: Woodhouse LIED about ties to Karl Rove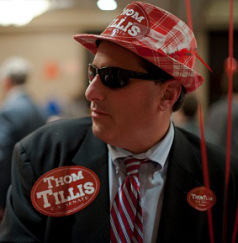 Boy, the decision to hire that reality TV star to run the state GOP operations is sure working out well, huh?  There was that infamous election night interview.  He's also the focus of a formal complaint about his work with his previous employer.  And also the instigator of that ill-advised, erroneous attack on that Charlotte TV reporter.
Now, we are learning that Dallas's last employer was merely a vehicle for The Prince of Darkness himself: 
Crossroads GPS, the powerful nonprofit corporation founded by Republican strategists Karl Rove and Ed Gillespie, bankrolled most of the money that Carolina Rising spent on TV ads that helped Thom Tillis defeat Kay Hagan for U.S. Senate last year, according to the campaign finance watchdogs.

Open Secrets, which is part of the Center for Responsive Politics, and two other watchdog groups, Citizens for Responsibility and Ethics in Washington and the Center for Public Integrity, previously reported that records showed Carolina Rising received nearly all of its funding from a single donor. Newly available tax records show the donor was Crossroads GPS.

Carolina Rising was formed as a tax-exempt social welfare organization by political operative Dallas Woodhouse, who is now the executive director of the N.C. Republican Party. It spent 97 percent of its money — nearly $5 million — on TV ads that benefitted Tillis, CREW had reported.

Open Secrets reported Tuesday that the latest records show Crossroads GPS provided 98.7 percent of Carolina Rising's funds. More than half of Crossroads GPS' money came from three donors that gave at least $10 million each. One of the anonymous donors contributed $20 million.

Crossroads GPS focused on six Senate races last year, and reported spending almost $26 million on political efforts, Open Secrets reports. Non-profit organizations don't have to disclose their donors, and are increasingly part of a network of "dark money" that is not directly attributable.

These social welfare groups are prohibited from spending more than half of their money on political activity. CREWS has filed a complaint with the Internal Revenue Service challenging the legality of Carolina Rising because of the amount of money it spent for Tillis.

Woodhouse dismisses the complaint as groundless, and says the TV ads were issue ads and not political ads. The IRS and Federal Election Commission have conflicting views of when an ad is political or not, leaving candidates without clear direction.
The problem with THAT?  In this video, Dallas admits he spent "a whole lot of money" getting Thom Tillis elected. 
We had a feeling this was the case.  Let's go back to our site in October 2014:
We must have struck a nerve at Carolina RIsing HQ with our earlier post regarding Crossroads Media.  Dallas Woodhouse, the boss at Carolina Rising, sent us this note:

As a Conservative I thank you for your work.

However you post about or organization is simply wrong, and I would ask you note the mistake and take down the post.

Crossroads Media is not founded, related or in anyway to Karl Rove and any of his companies. I have never spoke to him or sent any of his organizations money, other than I personally bought his book. One Copy.

I just wanted to correct the record. Crossroads media is not [sic] a releated to the Rove groups, it is just a coincidence. […] 
(*Sniff. Sniff.*  I think I smell someone's PANTS ON FIRE. )
The truth can be quite a female dog, huh?