#ncpol: TWO NEW state govt cabinet agencies! (Um, yay?)
In case you missed it, two more folks in Raleigh will now be able to flit around town and be recognized as "Mr. Secretary":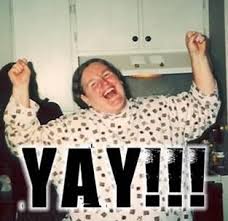 Gov. Pat McCrory on Tuesday promoted his top deputies on North Carolina military and information technology matters to expanded but similar posts in recently upgraded Cabinet-level departments.

Cornell Wilson, a former two-star general in the Marine Corps reserve and McCrory's military affairs adviser, was sworn in as the first secretary of the Department of Military and Veterans Affairs during a ceremony in the old Capitol building.

Moments later, Chris Estes was sworn in as head of the Department of Information Technology. Estes has been the state chief information officer and keeps that title.

Lawmakers agreed in last month's state budget to fulfill McCrory's request to expand the state IT office and military and veteran responsibilities to stand-alone departments. McCrory says the changes will create efficiencies and help serve the state better, especially for veterans and citizens when they engage with state government.

The changes mean there are now 10 Cabinet-level departments, up from eight.[…] 
The "conservative revolution" is at it again. Show of hands. How many people voted FOR this in 2010 or 2012 or 2014?  MORE: 
"What we're doing today is working together more as a team than ever before," McCrory said during the ceremony.

After working in the private sector, Estes became state CIO when McCrory took office in early 2013. Estes now will have more decision-making and control over what computers, software and other technology are purchased by other Cabinet agencies.

The state has struggled for years under the weight of IT projects going over budget and past schedule — a 2013 State Auditor's review of dozens of projects determined actual costs were more than twice as much and took 65 percent longer to complete than originally estimated. Networks and software programs between agencies also haven't been integrated.


"We've had silos of IT across the different agencies and so by creating a single department of information technology, it'll allow us to pull those resources together (and) deliver more services in a streamlined way," Estes said.

The department ultimately will have 2,220 employees as information technology workers across agencies will join the department over several years. Some state agencies will remain exempt.

Wilson, whose Marine Corps career included supporting Haiti earthquake relief and leading a multinational task force in Kuwait and Iraq during the second Iraq war, became McCrory's military adviser in October 2013.

The advisory work focused mainly on representing the governor in matters related to the state's six military installations and boosting the military's economic impact in North Carolina. At $66 billion, it's second in the state behind agriculture, Wilson said.

The new department, with about 100 workers, will incorporate similar work along with Division of Veterans Affairs — previously within the Department of Administration — and some military-related commissions, Wilson said. State veterans' nursing homes and cemeteries also will be the department's responsibility.

McCrory said he wants the department to help veterans get the services they need and get jobs in North Carolina. Protecting installations from future rounds of military base cuts also will be important, Wilson said.

"We're making sure our bases are being taken care of," Wilson said.


Wilson, who has been paid $101,000 as McCrory's adviser, will now make $129,000 as a Cabinet secretary, a McCrory spokesman said. Estes will continue to make $175,000 annually in his upgraded CIO role.
State government taking care of our federal military bases ???    The IT part of this is harder to challenge.  But REALLY.   Elevating these two to cabinet agencies makes it harder to trim their budgets, merge them with other agencies, or eliminate them down the road.  *Congratulations, "conservative" warriors.*