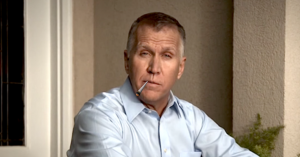 That's right. According to a major national survey, a whopping 30 percent of North Carolina voters say they either Don't Know who Thom Tillis is, or have No Opinion of him.  (Only Michigan Democrat Gary Peters fared worse.  Thirty-four percent of his constituents either don't know his name or have no opinion.)
Crazy Bernie Sanders has a 75 percent approval rating with the folks in Vermont.   The survey concludes that Kentuckians think much more of Rand Paul (53 percent approve, 37 percent disapprove) than they do of Mitch McConnell (44 percent approve, 47 percent disapprove.)  McConnell has the largest disapproval rating in the Senate.   New Yorkers love Chuck Schumer by a 63 percent (approve) to 27 percent (disapprove) margin.
In North Carolina, Thom Tillis has a 39 percent approval rating and a 30 percent disapproval rating.  As I said, THIRTY PERCENT either don't know him or have no opinion.  Contrast that with Richard Burr, who just won reelection in November.   His ratings stand at 44 percent approve, 35 percent disapprove.  Twenty-one percent either did not know him or had no opinion. 
Tillis has three more years to work things out.  He's had some upward mobility recently.
Polls in May and earlier this month had him at 29 percent approval.