#ncpol: Steve Troxler backed JOHN EDWARDS ?????
Yep, that's what it looks like: 
Responding to TV ads that call him a "tobacco-taxing liberal,' Democratic Senate candidate John Edwards charged his opponent's campaign with lying about his positions.

The settlement was unpopular in North Carolina because it would have dramatically increased taxes on one of the state's largest industries, while offering little protection for tobacco farmers.

In ads unveiled this weekend, the Faircloth campaign tried to link Edwards with President Clinton and the settlement. The ads refer to Edwards and Clinton as "two tobacco-taxing liberals.'

Also, in an appearance for Faircloth in Guilford County last week, Kentucky Sen. Mitch McConnell said Edwards would have supported the settlement and tax.

To respond, Edwards campaign manager Josh Stein held press conferences in Greensboro, Charlotte and Raleigh and Edwards made an appearance with tobacco farmers in Kinston.

Stein showed television and radio ads that his campaign will use to respond to the Faircloth ads.

The ads blast Faircloth for spreading "lies' about Edwards. They bring up a comment made by a Faircloth aide that the senator uses attack ads because "the average person doesn't know what is going on in the world.'

Stein said the new ads are not negative. "The ads present the sharp contrast between Lauch Faircloth and John Edwards,' he said in Greensboro. "They are comparative ads.'

Stein also introduced reporters to Steve Troxler, a Browns Summit tobacco farmer who supports Edwards. "John has been to my farm and we have talked about tobacco issues,' Troxler said. "He's very willing to work with us in the tobacco industry.'  […]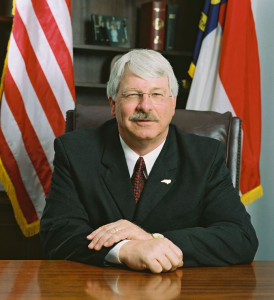 Yes, folks.  This was the 1998 US Senate race,  Incumbent Republican Lauch Faircloth, who had run up a very conservative record alongside his colleague Jesse Helms, was in the fight of his life against a slick-talking Raleigh lawyer (who would later go on to star in a political scandal and become a punch-line.)
Josh Stein, then John Edwards's campaign manager, is now a state senator from Wake County seeking the Democrat nomination for attorney general.  Troxler, the "Browns Summit tobacco farmer who supports Edwards"  is now the state's REPUBLICAN agriculture commissioner.   Troxler didn't just vote for Edwards.  He collaborated with ultra-liberal Josh Stein.  He appeared at a media event to defend Edwards against attacks from the Republican incumbent's campaign.  Let that sink in a little. 
Troxler was elected — as a Republican — to the office of agriculture commissioner in 2004.  Board of elections records show he was registered as a Democrat and voted Democrat through the 1998 elections.  In 2000, he began voting in Republican primaries.