#ncpol: Pat, we hardly got to know you.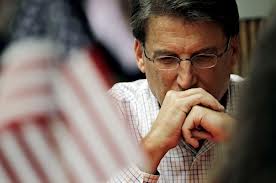 So, our third Republican governor since Reconstruction is going down in history as the first North Carolina governor to be voted out of office.  Some people have laughably tried to pin Pat McCrory's loss on some imagined right-wing stridency.
I have been networking with some conservative renegades inside Charlotte for some time.  For years, prior to 2012, they regaled me with stories of then-mayor Pat sticking it to conservatives and the whole limited government agenda.  He stepped out publicly to oppose conservative efforts to roll back taxes in Charlotte.  He bragged about his "good friend" and golfing buddy Jim Black. Ol' Pat also had a long-term deep bonded friendship with former councilman and mayor Patrick Cannon — last seen being dragged off in handcuffs by the FBI on bribery charges.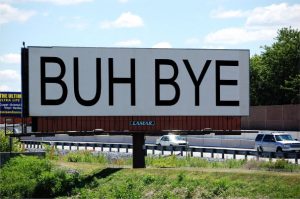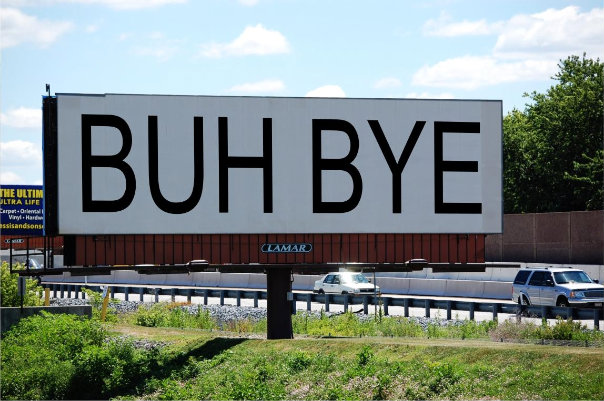 Pat McCrory was and is a social butterfly.  Ideology and party affiliation are annoyances to people like him.
I had been hearing from insiders in Raleigh that the whole governor thing was a strain on the McCrory marriage.  Mrs. McCrory didn't like Raleigh, and rarely visited.  She spent most of her time at the family home in Charlotte.  McCrory himself was more inclined toward a night at home alone with  a beer and a football game on the TV than with the political inside baseball of our capital city.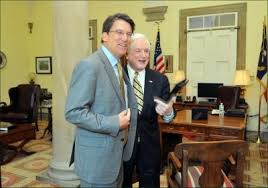 After years of Jim Hunt, Mike Easley, Dennis Wicker, and Bev Perdue, Republicans were hungry for the chance to get back upstairs in that house on Blount Street.  Ol' Pat came close in 2008.  So, he was by default the front runner for 2012.
While legislative leaders stood strong on fighting ObamaCare, McCrory waffled.  In 2014, when the House and Senate w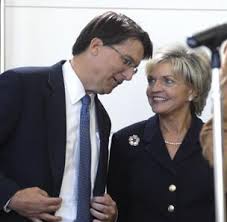 ere fighting over spending levels in the budget, McCrory sided with then-speaker and soon-to-be-senator Thom Tillis and his much higher spending levels.   McCrory even bounced around on both sides of HB2 — his alleged poison pill.   He settled down firmly as an opponent only when his campaign team began to realize how dire his prospects were.   While Common Core opponents stood strong with the NCGOP at the polls, McCrory surrounded himself with Common Core fans and did next to nothing to kill off that bureaucratic nightmare.   And then there was the whole praising Jim Hunt as his hero thing. 
The steady political instincts of Jack Hawke were sorely missed.  Hawke would have had McCrory run away from picking a fight with the Sons of Confederate Veterans over license plates.  Hawke would have urged more diplomacy and forethought on the whole I-77 tolling fiasco.  He also likely would have nixed the selling of fisheries commission seats to environmental activists.  And how about the hiding from Trump?  Richard Burr is arguably getting six more years in DC because his opponent ran ads tying him to Donald Trump. 
It's also amazing how little of a footprint four years of Republicans has left on state government.  An awful lot of deep-pocketed Democrats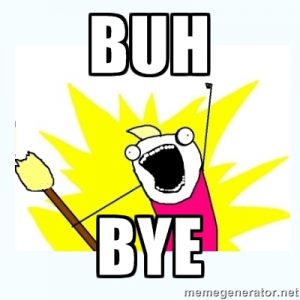 got appointments under this Republican regime.  There was very little house-cleaning at the various agencies.  As a result, Governor Roy Cooper won't need to do much tweaking after he's sworn in.
In 2012, we went with a governor — and a Republican leader — who had little to no devotion to the party platform or conservatism itself.  And it filtered down through the ranks.  Legislative leaders went into the campaign bragging about how they threw even more money at public education than the Democrats did.
We posted earlier about a treatise Rep.-elect Beverly Boswell submitted to House leaders.  It's basically a restatement of the GOP platform and basic conservative principles.  It got poo-pooed by Team Timmy in the House. But it actually should be respected as a great roadmap to leading the party out of the McCrory debacle and BACK INTO the upstairs portion of that big house on Blount Street.