#ncpol #ncga: Lil' Tricia helps dead-baby-parts distributor raise $$$
It's amazing. It's amazing how ANYONE who has seen these videos can still defend Planned Parenthood. But NC state Rep. Tricia Cotham is doing it — and doing it proudly:

Yep.   PP is PLANNED PARENTHOOD.  Their leaders have been exposed on several undercover videos — mostly ignored or picked apart by the drive-by media — buying and selling baby parts like Fred Sanford wheeling and dealing in junk.   Wendy Davis, of course, is the airhead Democrat legislator in Texas who got famous for fighting legislation banning abortions after 20 weeks. (Just like Renee Ellmers !!!)   She ran for governor as a Democrat, in 2014, and got clobbered.  During that gubernatorial campaign,  Davis got beat around the head and shoulders for fabricating major portions of her life story.  Yet, here she is in North Carolina — partying with Tricia and raising money for a notorious baby parts distributor: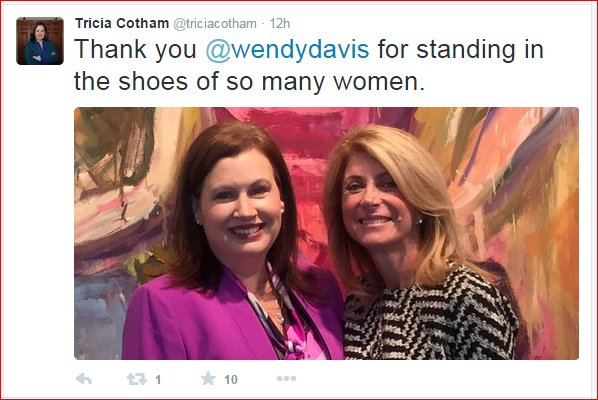 These days, publicly celebrating Planned Parenthood is about like standing on stage with Bill Cosby at a celebration of the comedian.  It's not something that is likely to win you a lot of public accolades.
It's looking more and more like Cotham has her eyes set on a prize bigger than the NC House.  Moves like this may be popular within her liberal House district, but wider swaths of the state's population are bound to have a serious problem with hugging up to Wendy Davis and Planned Parenthood.