#ncpol: Lefties LOVING Thilli$$$$$$$$$
Here's the most inappropriately-named Progress NC: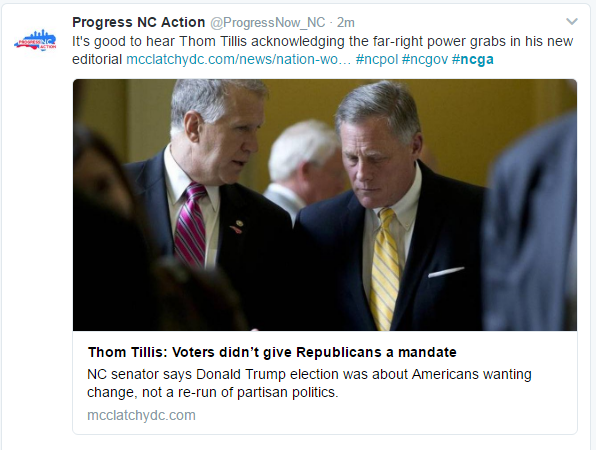 *Isn't THAT special?*
Seriously.  What is this guy up to?  He's clearly got detailed plans for enriching and empowering himself at our expense (and with our votes).  There is all kind of talk that he's bored with DC and wants back into the swamp in Raleigh.  (He tried hard during the RNC Convention to snuggle up to the Trumps, but that clearly went nowhere.)
He ran Raleigh like a mob boss.  He scratched a lot of backs and got his scratched right back.
Many had seen 2020 as Dan Forest's shot at the governor.  I am hearing all kinds of talk about Tillis and his Charlotte money machine forsaking reelection to DC in 2020 for a shot at Roy Cooper that year.  THAT would mean a primary against Lt. Dan — or another run for Lt. Dan for a meaningless job.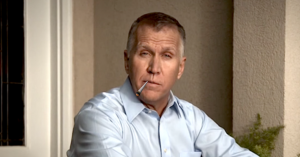 It would be good to get Tillis and his F-rated conservatism ratings and voting record out of DC, period.  
The guy is not good for the GOP, for North Carolina, or America.  He's clearly all about himself — as evidenced by his self-serving antics in Raleigh and this stupid, stupid op-ed.  I wouldn't be surprised if he switched parties.  He expressed disdain for his current party's voters in his op-ed, and his voting record is not far off from that of the most conservative elected Democrat in DC or Raleigh. (Actually, NC state Rep. William Brisson of Bladen County is more conservative than Tillis is.)  It would be an easy switch.  
Instead of simply griping about him, we need to start making plans for dealing with this individual.