#ncpol: Drivebys celebrate rise of radicals, rioters, & repudiator$ in big-city NC govts
We told you earlier about The Charlotte Observer's fawning about a ringleader of the 2016 riots that tore that city apart being elected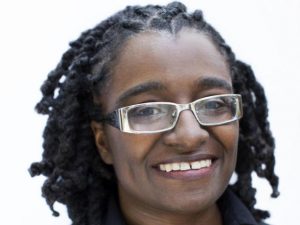 to the city council.  The Fayetteville Observer did what it does best — cover up for a Democrat candidate in a local election.  Mitch Colvin's business got disciplined by the state for financial improprieties.  He was being sued all over town for not paying his bills.  He had a criminal history that included drugs  and assault.  And now — in no small part to his hometown paper — he's MAYOR.
If you think Charlotte and Fayetteville are bad off, get a load of what the drivebys are now fawning over in Durham:
Activist-turned-elected official Jillian Johnson has taken on a new leadership role.

Sixteen years ago, Johnson was a Duke University undergraduate student in a class taught by Steve Schewel, a professor in Duke's Sanford School of Public Policy. Now he's the mayor and she's the mayor pro tempore.

[…]. The only current member with as much elective office experience as Johnson is her friend Charlie Reece, and that's only two years.

In an interview, Johnson said she had no idea as a student in 2001 that she would ever run for office, much less serve with a former professor. But like Schewel, she moved to Durham for college, liked it here and planted roots.

In Schewel's class, she got an A or A- and remembers the discussions being really interesting. He chose readings to challenge students' assumptions, she said. Schewel described Johnson as a brilliant and conscientious student.

Her community activism began while she was still a student, with efforts like the grassroots organizing group Durham CAN (Congregations, Associations and Neighborhoods) and the Durham Living Wage Project.

[…]Durham politicians frequently describe the city and themselves as progressive rather than liberal.

"I think progressive is tricky because the word has such a positive connotation – everyone wants to be progressive. I think of progressive as having a political orientation to the left of the Democratic Party, and goes beyond liberal or neoliberal economic agenda," she said.

"People don't like to be called liberals. I think of the mainstream Democratic Party as liberals," she said. As an example, Johnson said that Obamacare, the Affordable Care Act, is liberal, but a progressive health-care policy would be something like single-payer.

"My partner and I named our dog Bernie Sanders," she said. They call their dog Sandy.

The couple lives with their two sons, ages 3 and 11, in Durham's West End neighborhood. She lived in Virginia for several years, in Charlottesville, Reston and Richmond, and spent a year of high school in Chicago.

Reece, who was elected in fall 2015 said while "pro tempore" is Latin for "a little while," former Mayor Pro Tem Cora Cole-McFadden expanded the role into an informal ambassador for the city.

"Jillian loves this city, is everywhere in the city," he said. "It's essentially a lot of ribbon cutting. The mayor is active but can't be everywhere. I'm really excited about it; she will do a fantastic job."

But Schewel said people also look to the mayor pro tem for leadership. Johnson has not shied away from questioning or criticizing the city, whether it be on spending for the next police headquarters or the fatal police shooting of a distraught man, "a tragedy that could have been avoided," she said then.[…]

Johnson said the city has been very well run in recent years, so the issues that came up in the recent campaign were around racial equity and community policing, not routine government services like trash pickup.

One issue she is pushing is a race equity task force to look at how policies correct or cause inequities, on everything from tree canopies to new projects. She sees it as a general attitude toward governance. At the last two council work sessions, for example, Schewel has asked business leaders if they recruit employees from historically black colleges and universities.

"The city is already moving on a lot of racial equity work, Johnson said. "There has already been work, but I'd like to see it consolidated and expanded."

Gentrification is another concern, like on Fayetteville Street, the corridor east of downtown to N.C. Central University, she said. "There need to be a way to invest in development without displacing residents, and we're trying to figure out how to do that," she said. "The best way is to control the land." She doesn't think the city should sell any land it already owns unless it's part of buying a larger property that serves the community best.

"I don't want downtown to become an area for the super rich," she said. "I want us to put as much energy and investment into stabilizing neighborhoods as we did revitalization and redevelopment of downtown." […] 
In 2016, Johnson earned national attention by tweeting her belief that "the most dangerous people with guns are cops and soldiers." She's also had quite a run with Black Lives Matter, SEIU, and The Round Rev.  She also gained notoriety for tweeting about a Klan rally (that never ended up happening).  In response to her tweet, there was a panic in downtown Durham and a lot of county offices closed down. NOW the city has rules about tweeting.