#ncgop: Oops, he did it AGAIN.
Some people learn — painfully — not to touch the hot stove.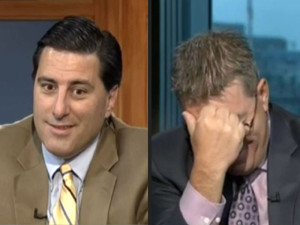 Others keep touching the hot stove hoping that it will eventually not burn their fingers. 
Larry Holmquist of Greensboro filed Monday to officially make the GOP primary for US Senate a threesome.  On Tuesday,  NCGOP HQ fired off THIS email:
Republicans –

Our country's national security faces a critical time. Americans now see terrorism as the number one problem facing our nation. We need solutions not more of the same failed policies of the last seven years.

As Hillary Clinton, chief architect of President Obama's foreign policy, unveils her counterterrorism strategy, it's important to remember she has supported the very failed approach that has made our nation less safe. Hillary Clinton even said President Obama's approach to counter ISIS "is close to mine" following his recent address laying out his strategy to combat the terrorist group.

Thankfully, Senator Burr, Senator Tillis and Governor McCrory understand the threat facing our country. As Chair of the Senate Intelligence Committee, Senator Burr is fighting every day to protect North Carolina and our country, pushing for a more expansive response to defeat ISIS. As a member of the Senate Armed Services Committee, Senator Tillis has gone on the record calling out President Obama's failure to outline a strategy to combat ISIS. Governor McCrory has taken actionable steps to protect North Carolinians from terror threats by halting the intake of Syrian refugees until the federal government can ensure the accuracy of its vetting process.

Our leaders know we need more than the same failed approach and will continue to fight to keep our state and country safe.

—
NCGOP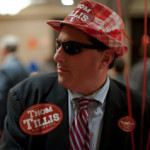 Okay.  TWO of the three politicians being praised there have primary opponents.  (Former state Rep. Robert Brawley is challenging Pat McCrory's reelection.) 
NCGOP executive director Dallas Woodhouse just got subjected to a verbal whipping over a previous email promoting Burr.  He went on an extended apology tour — begging party officials and activists for forgiveness and promising that nothing like that would happen again on his watch.  But here we are ONE WEEK LATER dealing with it all over again.
Here is the header revealing the sender details:

Granted, Dallas's name is nowhere on this email.  But, according to the email address, it came from the NCGOP communications team which is under his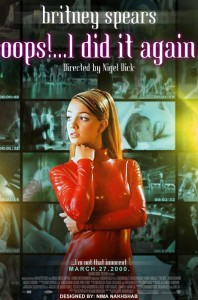 direct supervision.
Are we talking incompetence here?  Someone in over his head in trying to be a manager?  Or are we dealing with someone who is simply a loyal servant to his establishment masters? 
Regardless — as we asked with Curtis Watkins, WHEN is enough ENOUGH?