NCGOP Follies: "Results, not Rhetoric" & The Pronunciation Game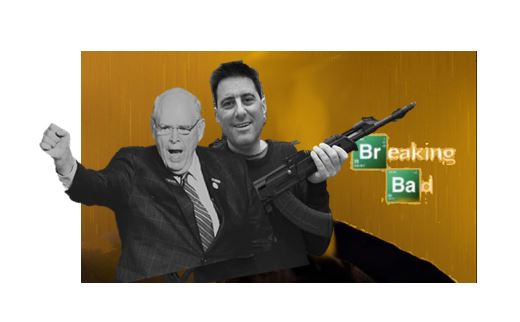 Surprisingly, this one has NOTHING to do with the little cartoon character.
What you see below is being pushed out all over social media: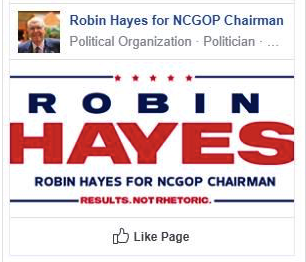 This is not news.  He already told us in his emailed Christmas card that he was running again.  The ad is recycled from his last run for chairman, where he knocked off Jim Womack. The fact that it's being pushed out now means someone is putting some money behind it. 
But is he seriously going to run under the slogan "Results, not Rhetoric" this time around?  After November????
The 9-11 hijackers got results.   Let's look at what results Robin and his grandson Dallas have achieved during their tenure:
monthly fuel fill-ups for Robin's plane, paid for by the party
nightmarish fundraising
getting the party dragged into the middle of the Eli Global federal probe
loss of the governor's mansion
loss of two Supreme Court seats
leaving Barbara Jackson hanging out there to dry
leaving Mark Harris twisting in the wind
loss of ALL statewide judicial races in 2018
mass purging (and threats of purging against) of conservatives
loss of super-majorities in both General Assembly chambers
Now THOSE are results that Wayne Goodwin would LOVE !!!   Robin and his grandson are one election cycle away from completely erasing ALL of the gains the NCGOP made in 2010 and 2012.
Meanwhile, if you want to talk about results — look at Lee County GOP chairman Jim Womack.  Hayes ridiculed and dismissed Womack during the last chairman campaign.  But look at what Womack has accomplished.  Record growth of the party in Lee County — where Democrats have long dominated.  And several big wins on the county board of commissioners and school board that made the party much more competitive in both arenas.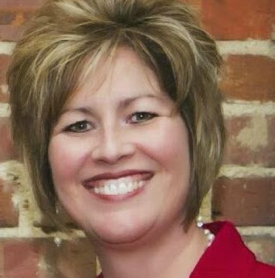 Now, let's look at Robin's partner in crime from down east — Miz Nix.   Michele Nix initially got herself elected vice-chairman of the party as a grassroots rebel pledging to shake things up in Raleigh and give the folks back home more say in party affairs.  As soon as the votes were counted, Nix went to work undermining then-chairman Hasan Harnett and helping to facilitate the coup that led to Harnett's ouster and Hayes's installation.  (Didn't you just love her pronouncement that the GOP is NOT the "conservative" party?)
Michele has been silent as the party establishment has beat up on and primaried conservatives.    Nix has been a faithful lieutenant to Hayes, Woodhouse and other party insiders in their efforts to purge conservative activists from state party activities. All that grassroots conservative "nonsense" she campaigned on got tossed out with the rest of the trash. 
Now, Nix apparently thinks she's got what it takes to be the next Member of Congress for The Third Congressional District.  (There are at least six others who might have something to say about that once Walter Jones retires.)
To get an indication of just how big Nix's head has gotten (underneath that BIG HAIR) during her time in Raleigh just check out her Facebook page: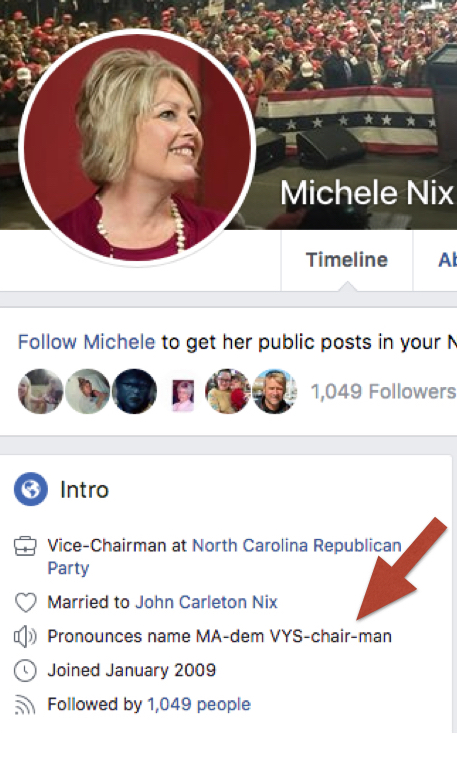 Seriously?  Outside the Raleigh beltline (and those resolution-drafting-nerd parties scattered across the state),  the title "Madame Vice-Chairman" and TWO dollars won't get you a cup of coffee at Starbucks.  (I appreciate her efforts to help us pronounce said title.  Not all of us were fortunate enough to matriculate at Lenoir County Public Schools.)  
*Let's hope state Rep. Marcia Morey doesn't get wind of this whole "Madame" thing. *