#NCGA: Tillis-sponsored bill inspired by former primary foe's father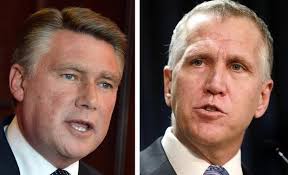 It's rare that we get to see legislation sponsored by a sitting House speaker.  But House Bill 1267 — sponsored by reps. Thom Tillis, David Lewis, and Jeff Elmore and introduced Wednesday — is one of those cases.  HB 1267 is also named "The Everette Harris Act," — after the late father of Charlotte pastor and former US Senate candidate Mark Harris. You may remember that the elder Mr. Harris voted early for his son in the Senate primary, but passed away before election day.  Some Democrat activists challenged the late Mr. Harris' ballot, and it was tossed out. 
HB 1267 seeks to prevent something like that from happening again: 
A BILL TO BE ENTITLED

AN ACT TO CLARIFY THAT A VOTER WHO CASTS A MAIL-IN ABSENTEE BALLOT
OR AN IN-PERSON ONE-STOP EARLY VOTE AND DIES THEREAFTER MAY NOT
HAVE THAT BALLOT CHALLENGED ON ACCOUNT OF DEATH.
The General Assembly of North Carolina enacts:
SECTION 1. This act shall be known and may be cited as the "Everette Harris  Act."
SECTION 2. G.S. 163-89 is amended by adding a new subsection to read:
"(c1) Decease of Voter. – The death of the voter is not grounds for challenge of an
absentee ballot if the voter was alive at the time of casting the ballot. This subsection applies to
ballots cast (i) in person under G.S. 163-227.2(b) or G.S. 163-227.2(g), (ii) under other
provisions of Article 20 of this Chapter (Absentee Ballot), or (iii) under the provisions of
Article 21A of this Chapter (Uniform Military and Overseas Voters Act)."
SECTION 3. This act is effective when it becomes law and applies to elections
held on or after that date.
This looks like this latest chapter in a reconciliation effort between the two men.  Harris had some harsh words for Tillis during the primary.  But after the votes were counted, Harris endorsed Tillis and has been campaigning for him.