Somebody's feeling like quite the struttin' bantam rooster these days: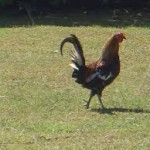 […] At Friday morning's meeting, McCrory also had sharp criticism for his Republican colleagues in the legislature, where his bond proposal is getting a lukewarm reception.

"We have support in the legislature but it is very soft support," McCrory said, adding that the legislature was busy with budget proposals. "Frankly, they're scared of their own shadow."  McCrory wants to put the proposal, which would fund a myriad of transportation and state government projects around the state, before voters. The proposal needs legislative backing to get on the ballot.
Scared?  Let's count the overridden vetoes, shall we?  Let's count the ignored budget proposals. It looks a lot more like a certain governor being sat in the corner and being dismissed as irrelevant.
 Take a good look at Mr. Apodaca.  Does HE look SCARED?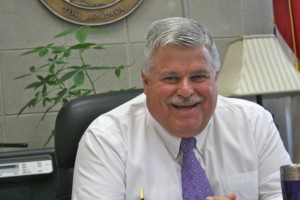 He also said that he would play "hardball" and wouldn't be deterred by opposition from those in his political party.

"I'm not going to let three or four people in the legislature block progress in North Carolina," McCrory said. "I don't care what party they're from."
Now THIS is *pure genius.* Run for reelection by attacking those folks you will be counting on to push stuff through the legislature, raise money for you, and to help you get out the vote.  The genius who told him to do this must be the same one behind the idea to take cookies out to the handful of hags protesting outside the executive mansion.  Or the one who told him to lie about being too busy to meet with some voters, but then step outside to play catch with a trooper.   Boy, Jack Hawke is really being missed right now. 
Friday morning's quarterly meeting of the economic development meeting is a public meeting, but N.C. Policy Watch was the only media member, as well as the only member of the public, to attend the meeting at  Red Hat's headquarters in downtown Raleigh.

The public-private partnership was established last year by the state legislature, and transferred the tourism and business recruitment division of the state Commerce Department to the quasi-public group. It's largely funded with public money ($16 million) but is on the hook to raise $1.25 million from private funders in its first year.
NC Policy Watch?  That's Blinkin' Chris's carnival freak show.  It makes soooooo much sense to give him exclusive access while you go off on your own party.  *Surely, Blinkin' Chris will be right there with the guv when ol' Roy comes calling in 2016.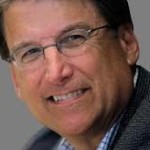 *
I think we're really starting to see something I detected during the 2012 campaign, and my friends in Charlotte told me about much earlier.  Pat is ALL ABOUT PAT.  He and his team ran around the state gobbling up all the money in 2012.  They did not lift a finger to try to create coattails and drag a few folks across the finish line.  Dan Forest won because of who he is and what he did and said.  Pat McCrory had nothing to do with it.
Instead of pitching conservative reforms, Pat and his political team are busy gobbling up checks from, and handing out appointments to, long-time Democrat influence peddlers.  It's all about Pat's job security.
Look at the mess in Charlotte.  At the height of the McCrory era, the GOP ran city government.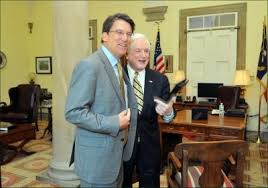 Seven years after the end of that era, the city has been declared "in decline" by its former manager, and the council has TWO Republicans (out of twelve total members) sitting in the corner.  Someone needs to buy Pat a clue.  He's been given an incredible opportunity by the people of North Carolina.  He can keep squandering it by playing Democrat influence peddler, or he can sit down with the crew that brought him to this dance and cobble out some real reforms to try and save this state.
All of you Good Republican folks in Raleigh currently sitting on your hands while he perpetrates this nonsense are shooting yourselves in the foot. Wake up and do something before ol' Pat does to the NCGOP and the state of North Carolina what he did to the Charlotte GOP and the Queen City.