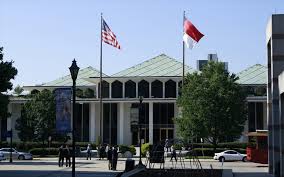 The NC House has released its proposed new district map.    My first thought — after comparing it with the current map — is that most people are going to see little, if any, change.
For the record, I still see a hell of a lot of amoebas on this new plan.  (I thought we were going for compactness, contiguity, and that kind of thing.) 
Of course, we've heard all kinds of talk about conservatives being targeted by the GOPe.  Let's see how some of them fared in this new plan:
HD 3:  

Michael Speciale

currently has part of Beaufort, part of Craven, and all of Pamlico.  In the new map, he keeps Beaufort, and Craven, but gives up Pamlico to Beverly Boswell (R-Dare).
HD6: In the current map,

Beverly Boswell

has part of Beaufort, and all of Hyde, Dare and Washington counties. In the new map, she has Currituck, Dare, Hyde and Pamlico.  (Pretty significant change there.) 
HD16:  

Chris Millis

currently has Pender and a piece of Onslow.  In the new map, he gets Pender and a nice chunk of very Democratic Columbus County.
HD62:  

John Blust's

district looks a little more compact than it does in the current map.
HD65:  

Bert Jones

currently has Caswell County and parts of Rockingham county.  His new district emcompasses about 80 percent of JUST Rockingham county.
HD67:

Justin Burr

goes from representing Stanly and (a piece of) Montgomery Counties to representing Stanly AND a piece of Cabarrus.  (His home county PLUS a more favorable-to-Republicans county.)
HD76 and 82:

Carl Ford

and

Larry Pittman

are double-bunked.  *Surrrrrr-prise!*
HD87:  Rookie

Destin Hall

appears to be OK.  He will continue to hold ALL of Caldwell County.
In other news, things look to stay about the same in The Sandhills.  Allen McNeill, Jamie Boles,and David Lewis all appear to be holding on to the same territory. Lee County is getting reduced to ONE representative, however.  RINO John Sauls and Democrat Robert Reives are double-bunked.