#ncga: Steinburg ally beats up Boswell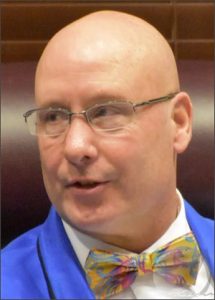 Beverly Boswell committed the sin of being nice to Clark Twiddy, the Dare County businessman fighting Bob "Cleanup on the pickle aisle" Steinburg for a state Senate seat.  As payback, Steinburg — between thumps on his seldom used Bible — reached into his Nixonian bag of dirty tricks and found her a primary opponent.
Bobby Hanig of Currituck County — who, by the way, swears that everyone in The Outer Banks already has a job — has attached himself to Steinburg's hip and unleashed a hail of Steinburg-esque vitriol on Boswell, a rookie Republican legislator.
Now, Hanig has stooped so low in the waning days of the primary that Steinburg and his golfing partner Mephistopheles must be beaming with pride. In 2016, a leftist group leaked Boswell's 30 year old record of criminal charges — accumulated during a messy divorce that included domestic violence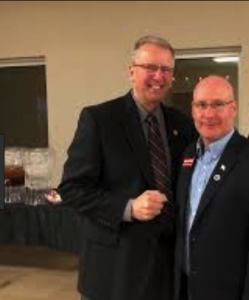 allegations — to the media.
(Accruing a criminal record during a messy divorce is nothing new.  A buddy of mine went through a rough divorce a few years ago.  He was an upstanding member of his community and a successful businessman.  His now ex-wife went to a  magistrate 17 times in a 20 day period to file criminal charges against him.  Of course, they were all fabricated.  But the cops had to come pick my friend up every time and take him to jail.  He'd have to spend time waiting for a judge in order to bail himself out. On one occasion, she arranged for him to be picked up at 4:30 on a Friday.  So, he got to spend the weekend in jail before he could go before a judge. It's taken him a few years — and a lot of legal fees and time — to get his record expunged and his good name back.)
The 2016 leak from the leftists was roundly denounced by Republicans and Democrats as a cheap shot. But that didn't stop Bob Steinburg's buddy Bobby Hanig:
[…] "I wanted to run a clean campaign since the beginning," Hanig said in a phone interview with The Voice after the mailer had been released.

"But she has consistently bashed me throughout the campaign," Hanig said. "It was time for people to know the facts. No name calling, no innuendo."

Boswell's spokesperson Luke Stancil issued a statement later Thursday, calling the mailer "shameful, personal attacks against Representative Boswell, making her relive her history as a victim of domestic violence."

"I call on Bobby Hanig to apologize for his shameful attack on Representative Beverly Boswell and all women who have suffered as victims of domestic violence across North Carolina," Stancil said.[…]

"There should be no place for these types of attacks in politics in eastern North Carolina, and we should show respect and care to the millions of women who are victims of domestic violence," Stancil said in his statement Thursday.

"The facts stand for themselves," Hanig replied.[…]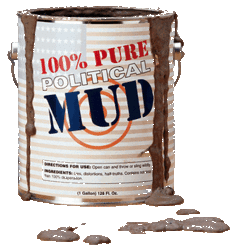 Unbelievable.  Even Democrats thought this was a low blow and a dirty trick two years ago.  But ol' Bobby has no shame about reviving it.
(Hanig is also in favor or tax-funded windmills, a ban on plastic bags and a ban on offshore drilling.)
Remember this, folks, as Steinburg and Hanig thump their Bibles and preach to you over the weekend.