#ncga: Solar leeches STILL feasting on us
I'll never forget those old Friday the 13th movies.  They kept killing off the psycho hockey mask-clad villain. And he SOMEHOW kept coming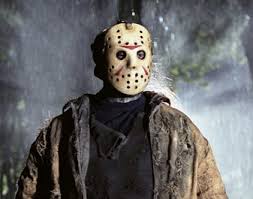 back in sequels to kill again and again and again.
A heated debate about killing off solar subsidies rocked the legislature during the most recent session.  Even WITH a Republican majority, this looked like a tough fight for thre anti-subsidy crowd.  A LOT of crooked politicians had their pockets lined by these leeches and their assorted "consultants."
We were led to believe that this shameful example of crony capitalism was killed off.  BUT, hold the phone:
The new year's repeal of North Carolina's tax credit on renewable energy equipment investments doesn't mean that break is completely over.
Really?  *Ya don't say.* MORE: 
The General Assembly approved a phased-out repeal that allows incomplete solar, hydroelectric and biomass projects to get the 35 percent credit if taxpayers applied by Oct. 1 and the projects were substantially completed Jan. 1.

The Revenue Department told a legislative energy policy panel Tuesday it had received 201 such applications reporting $938 million in credits. Speakers cautioned actual credits taken likely would be much less because some projects won't materialize or credits may never be used. Better figures should come later. Some businesses also could take 10 years to exhaust their credits.

The department previously reported tax filers took $127 million in credits that were processed in 2014.
And there was this item that slipped past us late last year: 
[…] But with the budget document finally available after months of delay, it seems clear that the leadership has dropped plans to freeze the state's renewable energy portfolio standard. And while the proposal is alive in two bills already adopted by the House, it appears unlikely that either will be passed in the waning days of the legislature's session.
[…] 
Rep. John Szoka (R-Cumberland) says House Majority Leader Mike Hager remains interested in trying to move forward with the freeze. But Szoka says the general sentiment in the House is not to push forward with the proposal.
Hager (R-Rutherford) could not be reached for comment.
The renewable energy standard, adopted in 2007, mandates that utilities produce specific amounts of the power they sell from renewable resources.
The percentage of power from renewables has been rising in stages. It is currently at 6% for the state's publicly traded utilities. Under the 2007 law, it is slated to rise to 12.5% by 2021.

The freeze has been supported by conservative groups and championed in the House, particularly by Hager.
It appears that the renewable energy trade off in the negotiations between House and Senate was to allow the tax credit to die and make no change to the portfolio standard.
Maintaining the standard will cushion somewhat the impact on the of the end of the tax credit. Demand for renewables, particularly solar power, should continue to rise in the state.
Demand to continue to rise? With a mandate in place whose threshold keeps rising in steps over the years?  (Ya think ????)   MORE: 
The industry has been expecting the credit to end soon, if not now. And the continuing drop in solar development costs makes it possible to build projects without the tax credit. But the industry may not grow in North Carolina as fast as it has over the past few years.
Advocates disappointed
Both incentives played an important part in North Carolina's rapid rise as a player in the solar industry. While the tax credit had long been slated to end this year, there was a concerted effort to get an extension. When that failed, industry supporters attempted to get the legislature to phase out the credit over 2016 and 2017, extending its life, but reducing the percentage in steps.
[…]
Szoka, who started his legislative career as an opponent of green energy incentives, says he has studied the numbers and he sees the industry as benefiting the state generally.
It's amazing what a lot of new cash shoved in your pockets will do to your core principles.  *SMH*
We are STILL the first and only southeastern state to establish and maintain a "renewable energy portfolio standard".  
It is NOT government's business / mission  to manjufacture demand for a product and keep the industry producing said product afloat.  Alternative energy production is more costly than traditional methods.  Keeping those mandates in place ensures inflated utility bills for North Carolinians for years to come. 
Wildlife officials scold us  and threaten us with fines if we feed wild animals.  We're told that the animals will become dependent and won't be able to fend for themselves.  It's amazing that argument isn't applied to people and businesses and their respective relationships with government.