#ncga: More on the NC Dem wish list
We told you earlier about Spectrum News's "scoop" on the Democrat wish list for the NC House races in 2018.  One of the names on that wish list was Rep. Greg Murphy of Greenville.  Murphy is loaded with cash and is very popular.  Here is what/ who the Democrats think has a chance of knocking him off in November: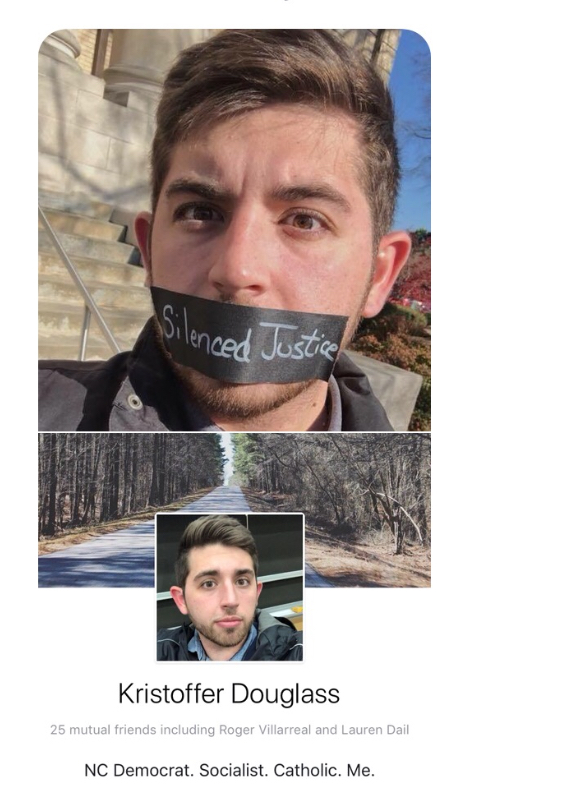 You have to love the tape over the mouth with the crazy leftist slogan written on it.  A perfect portrait of sanity, eh?  (And there is surely something to be said for his self-applied description of himself as a "socialist.")
If you go to his campaign Facebook page you'll also learn he (1) is a national leader with the College Democrats, and (2) has two last names.  That must be something with the younger generation.  Specht (Speck? Spock?) over at The N&O has two first names he uses interchangeably.  
There's your choice Greenville.  A respected physician, Murphy, or a self-described socialist kid sporting tape over his mouth.
And while we're talking about the #1 news source for physician waiting rooms  and nursing home common areas everywhere, let's see what NC Dem HQ has leaked to Spectrum about the Senate races: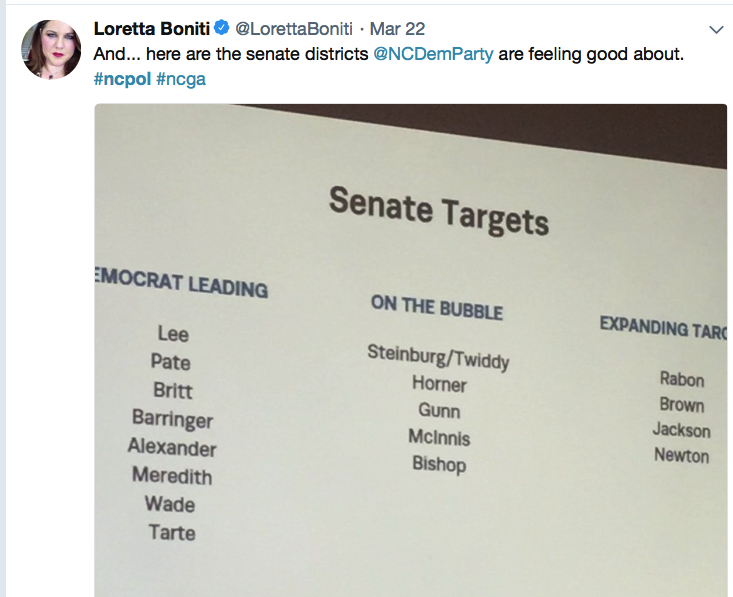 As with the House races, I am sure NCGOP HQ would LOVE LOVE LOVE for the Dems to dump a whole lot of money into the general election races in the "expanding targets column."  Talk about quixotic.
As for "On the bubble"?  The winner of the GOP primary (Steinburg v. Twiddy) is going to Raleigh.  The general will be a joke.  The McInnis race COULD go Democrat, but I seriously doubt it.  Let's go to the numbers:

You can see the R vs. D split favors Democrats, but the real interesting numbers are the potential R vote (Republican + Unaffiliated + Libertarian) and the Potential D (Democrats) vote as well as the black v. white comparison.
The black voters are overwhelmingly diehard Democrat for November.  The white voters — even though some Unaffiliateds and Libertarians, and Democrats are mixed in there with Republicans – show the real potential voter universe for the GOP in this race.  Richmond County is comfortably majority Democrat.  But it has been trending RED, electing local GOP officials and going for Trump in 2016.  There are an awful lot of white Democrats and Unaffiliateds out there who can be wooed by lower taxes, less government, and opposition to gun control.   In this race, the winner of the GOP primary in May — barring a major scandal — takes it all in November.