#ncga: Lil' Tricia is OUTTA HERE.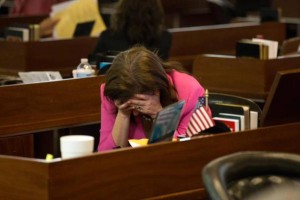 Mrs. Jerry Meek has decided she's HAD ENOUGH. Yes, Miss "Christmas in November" is retiring from the state House:
After reflection and prayer I write to you to say I am ready for the next chapter…..

My experience in the North Carolina Legislature for the last five terms has changed and enhanced my life.  I have enjoyed the honor and thrill of public service and I am grateful to the people who elected me and to my colleagues and community leaders who have consistently supported me all along the way.

While serving in the NC House, I married Jerry Meek, the love of my life, gave birth to two wonderful boys.  I started a business and enacted important legislation that I know will strengthen families, schools, and the future of North Carolina.  I will forever be proud of my efforts and success in making NC a better place.  When I became a legislator in 2007, I was the youngest woman to have ever served.  I am proud that I helped to "crack the glass ceiling" on behalf of other women at the General Assembly.  I hope other young women will hear the message that they too can serve and that we need them!
Um, Mama got you the appointment to fill the seat vacated by Jim Black.  (He had to go serve in a BIGGER House.)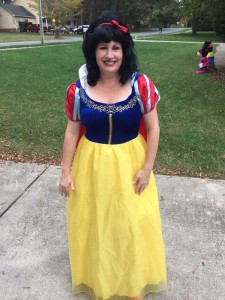 I've worked hard "to lean in" in multiple public and private endeavors, and now, it's time for me to "lean in" more with my family and with my own life.  My oldest son will start school next fall and it is important to me that I be home for him and many other milestones in my children's lives.  To that end, I must close this chapter of service in the NC General Assembly and start the next chapter of my life.  I am excited for what my future holds and I know that public service will continue to be a part of my life.  As I take a pause from my time in elected office, I will always be extremely grateful to the residents of NC House District 100 who took a chance on a 28 year-old young woman and allowed me to represent them for almost 10 years.


On my desk in the NC House Chamber, I have looked at a quote that reads, "I am in politics because of the conflict between good and evil, and I believe that in the end, good will triumph."  I am an optimist and still believe this quote.  I am proud to have contributed to the good, by my actions and legislation.  I look forward to serving out the remaining year of my term.
You know, she always amazed me how she handled that vice-principal post in Charlotte-Meck public schools AND a seat in the North Carolina House. A lot of missed work, I'm sure.   With this announcement, we are losing a hell of a resource for comedic material. The average IQ of the Democrat caucus will drop like a rock.
Hopefully, she will continue to tweet.  But how much fun will she provide now that she's merely a private citizen?