#ncga: Jimmy and the pigs
No, that's not an Elton John classic.  Or a new NBC sitcom.  
The lefty praetorian guard over at IndyWeek is accusing our old, um, *pal* Jimmy Dixon of protecting dirty hogs and campaign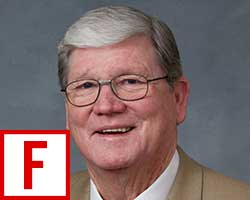 donors at the expense of poor black folks: 
State Representative Jimmy Dixon, R-Wayne and Duplin, the first to speak during a packed committee hearing inside the legislature last Wednesday, kicked things off with a strange request. 

"I want to take us back a few years, to 1859, when soon-to-be President Abraham Lincoln addressed the opening day of the Wisconsin Agriculture Fair," he said. "I will use that [speech] as a springboard in explaining this bill."

It's an apt metaphor for the modern state GOP: Why go forward when you can go back 150 years? The irony didn't go unnoticed. "I was hoping that you would at least come to the later eighteen-hundreds, when African Americans weren't enslaved," quipped Representative Amos Quick, D-Guilford. […]
Hmmm.  *Rough crowd.  Rough crowd.* NOT a good start.  MORE: 
[…] Quick understood that Dixon's reference—a meandering way to remind the crowd that farmers produce our food, so we should support them—was all the more curious given the demographic makeup of the communities likely to suffer under the bill they were there to discuss: people of color living near industrial hog farms.

The legislation, House Bill 467, would shield the hog industry from myriad kinds of legal claims. It would prevent plaintiffs from recovering damages that aren't property-value-related, including anything stemming from health, pain, or lost-income concerns. (Property owners could likely only collect about $7,000 in damages over a three-year period, per a statutory limit.) And, because it doesn't grandfather in active cases, it would also block twenty-six pending federal lawsuits filed against Murphy-Brown, a subsidiary of Smithfield Foods.
Now, WHY would Dixon — who is already earning the ire of the commercial fishing industry along the state's coast — be bending over backwards to help the pork industry?  IndyWeek thinks they have the answer:
[…] North Carolina's industrial hog farms are notoriously toxic, storing millions of gallons of feces and urine in open-air cesspools. When those pools fill up, activists say, the hog waste sprays into the air and can even make its way into people's homes.

Dixon, a longtime farmer, said he just wants to find the "proper remedy when there is an instance of temporary or permanent nuisance."

Perhaps. But when you look at his campaign contributors, it's hard to imagine that Dixon's not acting as a friend of the pork industry. He's certainly its beneficiary. According to campaign finance records, over the course of his career Dixon has received more than $115,000 from Big Pork, including: $9,500 from the N.C. Pork Council; more than $20,000 from the Maxwell family, which owns the Goldsboro Milling Company, the tenth-largest swine producer in the United States; $9,000 from Walter Pelletier and $3,000 from John Pike, both of whom also have ties to Goldsboro Milling; $37,500 from Prestage Farms; and $36,250 from donors associated with Murphy-Brown, the company facing more than two dozen federal lawsuits that this legislation would effectively negate.

Amid the outcry, the committee delayed a vote on HB 467. Dixon did not respond to the INDY's request for comment.[…]