#ncga: Intercourse? But, of course!
The SAME guy who has burned up the airwaves and the Internet ridiculing conservatives for wanting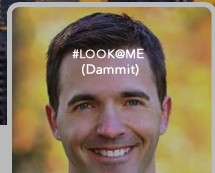 to keep boys and girls in separate restrooms NOW wants to sink the state's claws into the question of fornication.    No joke.  THIS is the title of the bill senator Jeff Jackson (D-Mecklenburg) has filed: 
AN ACT TO PROVIDE THAT A PERSON WHO CONTINUES TO ENGAGE IN INTERCOURSE AFTER CONSENT IS WITHDRAWN IS DEEMED TO HAVE COMMITTED THE ACT OF INTERCOURSE BY FORCE AND AGAINST THE WILL OF THE OTHER PERSON.
Before I delve into this, here's a little nastygram from senator Jeff's Twitter account: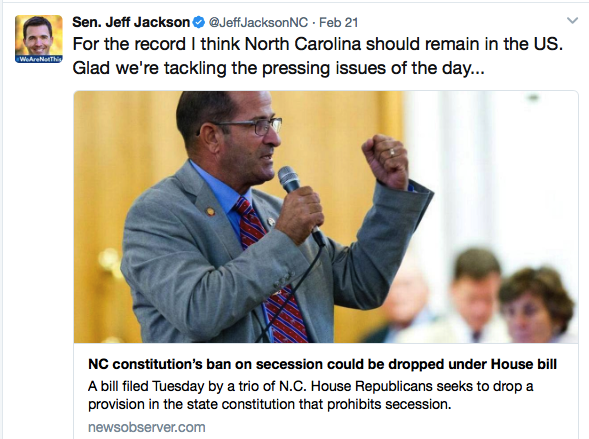 And the "rules" of fornication are "the pressing issues of the day" ????  
Here's another gem from Jeff: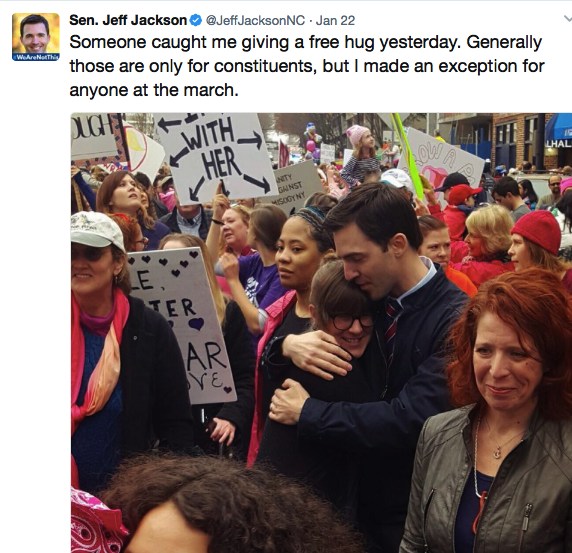 (Did Jeff properly obtain consent from ALL of these gals?   I guess that is a girl he's hugging.  Let's say "she" decides she doesn't like Jeff's hug prior to his breaking off the embrace.  IS it assault? And will the NCAA or the ACC show concern if it turns out the huggee here IS a guy in women's clothing, or vice versa?)
Another burning question from the peanut gallery here at Haymaker HQ: Will the college referees — out of work from the HB2 boycott — be hired on by the state to enforce Jeff's bill, to determine whether or not consent was revoked before the buzzer went off?
Maybe Jeff will take some time off from pandering to the Wimmen's Studies Department alumni to apologize for insinuating that Tea Party activists and Trump supporters were responsible for a spike in threats to Jewish Community Centers.

Oops. It turned out NEITHER of those groups had anything to do with any of it.  (An Israeli and a black leftist got busted for those dirty deeds.)