#ncga: Here comes the judge!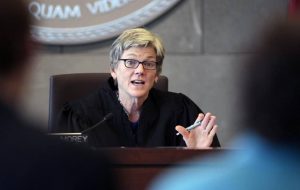 Durham County Chief District Court Judge Marcia Morey is hanging up her black robe and heading over to that den of iniquity on Jones Steet.  Local Democrats appointed her to fill the District 30 North Carolina House seat left vacant by the passing of uber-liberal Paul Luebke.  (Durham is hopelessly statist and a complete mess.  So, she is probably among the best we can hope for in that seat.) 
Speaking of the late Mr. Luebke, I actually ended up as a student many, many moons ago  in one of the college classes he presided over. (He did a great job of helping me realize what a big freaking waste of time sociology IS. )
Back to Judge Morey. Does anyone else find it interesting that Her Honor is giving up a job that pays $111,684 annually for one that pays $13,951?   Here is the driveby media take on her: 
[…] In a speech to Durham Democrats, Morey said she wanted to improve public schools, seek fair elections, improve access to health care and protect the environment.

Her top issue, Morey said in an interview, is to raise the age of juvenile jurisdiction.

"So we give kids in North Carolina a chance by not having a criminal record," she said.

Morey has served on the bench for nearly 18 years. She was a driving force behind the county's misdemeanor diversion program, which was the first in the state after it was established in 2014 to give 16- and 17-year-olds charged with certain misdemeanors a second chance. The program was later expanded to 18- to 21-year-olds and has been a model for other counties across the state.

Morey said she plans to start in the new position next week, but was unclear when because she is a witness in a federal case in Greensboro.

Morey's judicial experience will allow her to work across the aisle on justice issues and will round out the Durham delegation, Woodard said.

"When she walks in the door next week, she is going to be in the top two or three top legislators in terms of judicial experience and knowledge," Woodard said. "That is going to count for a lot."

Morey said it will take a while to get her sea legs.

"We are so restrained in the judiciary for what we can say," she said. Now, her job requires her to speak up as she pushes for policy changes.

After Morey's appointment, a social media post pointed out that Morey is one of the newest openly gay members of the General Assembly.
Holy crap! A lot of stuff gets said on social media.  How much of it is (1) TRUE or (2) worthy of being reprinted as fact in the driveby media?
MORE: 
[…] Morey acknowledged she's gay but said it's not part of her public profile or persona.

"I am just a person and a professional working hard to serve the public," Morey said. […]
I, for one, have to applaud that attitude.  With so many folks shoving GAY in our faces during the debates on HB2 and other issues, she's rightly telling this driveby idiot that all of that is her personal business and only a small part of the complex puzzle that is her life.
She's right.  It's a shame that the stupid driveby media has decided to make her business OUR business.