#ncga: Here comes the hurricane cash!
The appropriately surnamed Nelson Dollar, chairman of the House Appropriations Committee, is apparently leading the Republican foray into hurricane politics: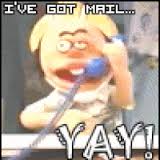 From: Rep. Nelson Dollar
Sent: Tuesday, October 18, 2016 2:32 PM
To: @House/Members
Cc: @House/Legislative Assistants
Subject: Hurricane Matthew Relief
Importance: High

Dear House Members,

Please be advised that the Chairs of the House Appropriations Committee have already been working on draft legislation to address the impact and aftermath of Hurricane Matthew. We are actively reviewing Special Session legislation enacted on December 16, 1999 in response to Hurricane Floyd and a host of documents including a review of subsequent changes in law and procedures since that time.

As you know, the Governor has extensive authority in times of emergency to draw funding from a variety of sources to address immediate needs. In addition, the assessment of the needs is still underway as the water in some areas is just now beginning to recede.

Thankfully, as a result of sound budgeting, we have far more funding available in the "Rainy Day" saving fund to address Matthew than our friends had in 1999. Our State Savings Reserve stands at $1.575 billion with an additional $208 million+ unreserved on the bottom line.

In 1999, $836 million was appropriated for Floyd relief and rebuilding efforts. We know the needs will be substantial and complex and are actively working with the Administration as we move forward.
Sooooo — sounds like (1) no special session, and (2) Rep. Richardson needs to work on his math skills. MORE: 
The link – you may have to cut and paste – gives you the chronology of the response to Hurricane Floyd from a book published on the storm by UNC Press. I think you'll find it interesting and helpful.

http://www.uncpress.unc.edu/faces/chronology.htm

Please be assured everyone appreciates and understands the urgency to get lives, homes and businesses back to normal as much as we can as soon as we can. We are all working toward that goal.

Thank you,
Nelson