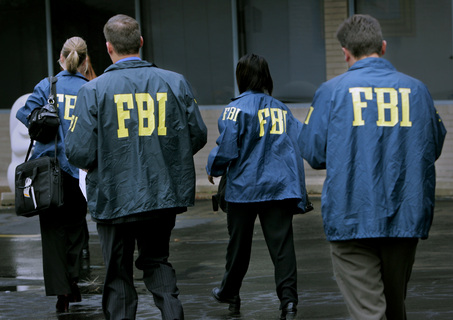 It's been whispered around the halls of the legislative building for years now:  The feds are hot on the trail of Speaker Timmy and his pals.  
Now, according to one former legislator, that piece of workplace gossip may be coming true:
A former state House member said Tuesday that two FBI agents visited him in early October and talked with him about an anonymous letter that claimed House Speaker Tim Moore engineered legislation favorable to one of Moore's legal clients.

John Blust, a Greensboro Republican who did not seek re-election and finished his term in December, said in an interview with The News & Observer that he wasn't sure if he or the agents first brought up the letter.

The letter said it was being sent to state and federal authorities and reporters. The N&O has not been able to identify the letter writer, who claimed to be a Republican member of the House. Blust said he told the agents he didn't write the letter, and didn't know about the allegations in it.

"I know nothing about the things mentioned in the letter," said Blust, who had held a seat in the House for 18 years. […] 
Blust was one of the good ones.  Unfortunately, as a good one, you get isolated in the legislature and — eventually — redistricted out of power. 
MORE:
[…] Blust said the agents showed up uninvited at his office.

On Oct. 8, The N&O reported that Wake County District Attorney Lorrin Freeman was launching a noncriminal inquiry into how Moore, a Cleveland County lawyer, handled two private clients who also had a financial interest in legislative matters.

Blust's comments are the first public indication that federal authorities may also be looking into Moore's private legal work.

Moore, a Republican starting his third term as speaker, has confirmed that he represented the clients, but insists he does not mix his private legal business with his legislative duties.

One of those clients was the North Carolina Bail Agents Association, which paid him $10,000 to help the group before the state insurance department in early 2012. The association earns money training bail agents, and contended a competitor did not have the authority to also offer the training.

Later that year, state lawmakers passed legislation giving the association exclusive authority. Moore said he no longer represented the association by then, and legislative records show he excused himself from the vote. The letter writer claimed Moore helped engineer passageof the legislation behind the scenes. State judges later threw the law out, finding it set up an unconstitutional monopoly.

Moore confirmed the fee, but said the rest of the letter was full of lies.

Moore's other client was Neal Hunter, a co-founder of KNOW Bio, a Durham-based startup.

Hunter is a key investor in a mixed-use development in south Durham that city officials had opposed, fearing it would cause traffic problems and add more pollution to nearby Jordan Lake. Moore twice ran legislation to override the city's opposition. It passed in 2013, and the 751 South development of shops, residences and offices is now being built.

Two years later, Hunter hired Moore for legal work and in 2017 hired him again for KNOW Bio. Moore said he made $40,000 for the company monitoring federal law and researching federal tax policy for startups before its then-CEO ended the contract.

For years, Blust has been a critic of how the legislature operates, both under the current Republican majority and under Democrats in the preceding decade. He has often said the legislative leaders have too much power over what legislation survives or fails. He said he spoke of those concerns to the FBI agents. […]
Yep.  One of those three-letter agencies —  IRS, DEA, FBI — that, if they're paying a lot of attention  to you, life is NOT GOOD.  
Hmmm.  The feds looking into a NC House speaker. (Anybody else seen this movie before?)