#ncga [ Heard the one about the RINO and the prosecutor? (Stop US if you have …) ]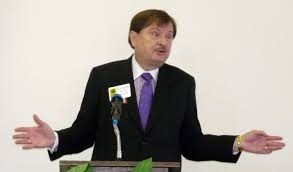 It took two-and-a-half years, but state Senator Fletcher Hartsell's (RINO-Cabarrus) campaign finance / ethics case is going to get some attention from an actual bona fide prosecutor:
More than $600 in shoe repairs, three speeding tickets, magazine subscriptions and tens of thousands of dollars in credit card expenses were among the items that state elections officials say were improper campaign expenditures by Sen. Fletcher Hartsell, R-Cabarrus.

Saying they believed Hartsell deliberately tried to disguise his personal expenditures, members of the State Board of Elections voted 5-0 to refer their investigation to state prosecutors in Wake and Cabarrus counties as well as all three federal prosecutors in the state. Board members also voted to pursue civil and administrative penalties against the 13-term senators.

Neither of those findings mean that Hartsell is guilty of anything, only that board members found evidence that suggests wrongdoing. However, during several pointed exchanges Wednesday afternoon, it was clear Chairman Josh Howard, a Republican, and his fellow board members were frustrated by what they had found.

"Some of the things in there should make anyone angry," Howard said of the 800 page report that provided the basis of Wednesday's hearing. "Campaign finance disclosures were wholly inaccurate or entirely opaque. At that time, if you're not angry, you're not paying attention. The tie that binds all five of us on this board, Democrats and Republicans, is we have zero tolerance for political corruption. And living off your campaign, which there's reason to believe is going on here, is a form of political corruption." […] 
Hmmm.  Political corruption.  Interesting.  This appears to tell us that what they found was so stinky that they couldn't continue to sweep stuff under the rug for this close political ally of Gov. Pat McCrory and Senator Thom Tillis.   (HERE is a summary of the state board's case against Hartsell.)
Hartsell didn't show for the inquisition, but the fact that he has retained the NCGOP Establishment's "in-house counsel" Roger Knight should tell you boatloads about how interested / concerned official Raleigh is about this case.
Republicans like to gripe about "Democrat corruption," but it is important to remember — while doing that — you need to keep your own house CLEAN as well.