NC Campaign 2012: The Battle of Wilmington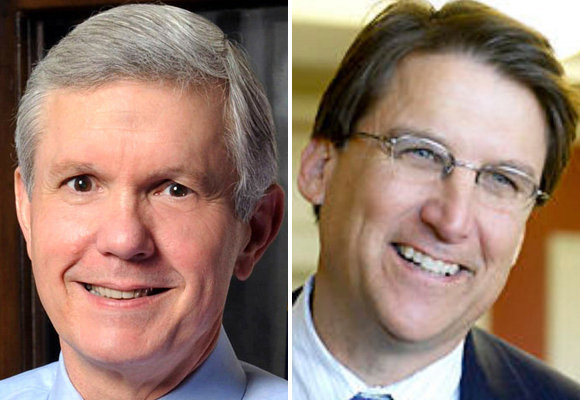 Well, the two empty suits topping the tickets for each of the state's two main parties — Walter Dalton and Pat McCrory — faced off in Wilmington on Saturday.
The mainstream media was shocked — SHOCKED — that Dalton came out swinging at McCrory.  ANYONE who has any kind of campaign experience KNOWS that's what you do when you know you're down and you need to make up ground in the polls.
Dalton seems to have found McCrory's Achilles Heel, and is starting to hammer away at it:
In the first question in the campaign's first debate, the lieutenant governor took aim at McCrory's support for a downtown arena that many opposed and a budget that boosted his mayoral salary amid the financial crisis. "That is not leading by example," Dalton said, noting that he voluntarily took a furlough amid state budget cuts.

McCrory offered no response in the debate or a subsequent interview about the pay hike, but he had a witty retort about the arena project. "We've done such a good job the Democratic Party is coming to the city," McCrory said, invoking laughter from crowd. "The convention is coming to the arena he criticized."
Several of McCrory's decisions during his  mayoral tenure seriously irked a lot of Charlotte area conservatives.  On a number of issues from the arena, to a sales tax hike, to light rail, McCrory sided against area conservatives.  The first post-McCrory elections in Charlotte left city government in the hands of a Democrat mayor and a 9-2 Democrat majority on the council.
Recently, Charlotte's city manager described The Queen City as "a city in decline."  He said current revenues are not coming in at fast enough of a rate to pay all of the city's fiscal obligations.  
Though, Dalton may have stepped in it with this line of thinking:
The race is getting early national attention, with Democratic and Republican groups airing more than $2 million so far in TV advertising, questioning McCrory's ethics and tying Dalton to the unpopular and controversial incumbent governor.

Asked after the debate about his aggressive approach, Dalton said, "I don't think people know Pat McCrory right now. And I think there has been some change in Pat McCrory over time."
Changing your mind is not so bad — as long as it is a genuine change.  Ronald Reagan — as governor of California — supported tax increases, and took legislative stands  favoring abortion AND gay rights.  Fortunately, for the country, his presidential tenure featured much more sound policy stands.  Perhaps McCrory HAS HAD a come-to-Jesus moment like Reagan did.   Ol' Pat needs to convince voters he is a committed, principled conservative who will stand up to legislative leaders — Republican and Democrat — when they go on spending and regulatory binges.
Dalton had a big mind-change this year.  After he started his primary campaign for governor, Dalton came out against the marriage amendment to the state constitution.  Never mind that he co-sponsored VERY similar legislation in 2006.  
Speaking of not being known — a recent Civitas poll showed that 25 percent of  state voters HAVE NO IDEA WHO WALTER DALTON IS — despite the fact he has been over at the General Assembly since 1996.
  (Also — Dalton has been talking about that time — long ago — when he was in the legislature.  Last time I checked, Dalton has been the lieutenant governor since 2008.  According to state law, the Lt. Governor is the presiding officer in the state Senate.  Until 2010 — Dalton was hugged up with Marc Basnight and Tony Rand digging us into a huge fiscal hole.  Prior to 2008, Dalton co-chaired the Senate Appropriations Committee with Kay Hagan.  So, all of that state spending up to 2008 is ON HIM.)
Dalton and his campaign may be stepping in it too by talking about McCrory's law firm and its lobbying activities.  Dalton's daughter has been a registered lobbyist working the General Assembly since 2002 — while daddy was a powerful, up-and-coming legislator.
Dalton is really stretching it by painting himself as an agent-of-change in Raleigh.  (He's been a powerful elected official within that town since 1996.   Until the GOP took over the legislature — and he started running for governor — you didn't hear Dalton complaining a whole lot about what was happening on Jones Street.)
In the aftermath of Saturday's debate, it appears it was all a wash.  It still is McCrory's to lose.  Dalton has to  knock McCrory off step and bring his favorability numbers down.  I am betting the polls will show that didn't happen on Saturday in The Port City.