NC-09: McCready's minions apparently fear THIS GOP gal
Just check out the kind of reaction a woman in a  Dan Bishop t-shirt passing out literature, and taking some video and pictures outside the Robeson County Board of Elections provoked among some of the paid Democrat campaign professionals today: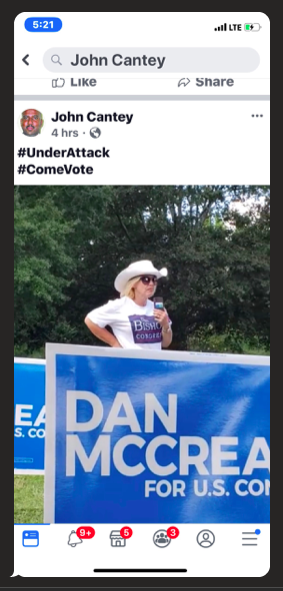 That's NCGOP  vice-chairman Miriam Chu,  who traveled to Lumberton to hand out Dan Bishop literature to early voters there. Reportedly, she was also interested in seeing if she could collect or observe any evidence of the stories of election malfeasance she has heard emanating from that county.
John Cantey is a Lumberton city councilman who received thousands of dollars from Democrat candidates for "consulting" and other miscellaneous activities during the controversial 2018 election cycle.  
Among the things Chu reportedly observed:
The state Republican vice-chairman said a number of voters took Bishop literature from her, and even told her — after exiting the polling place — that they voted for Bishop.
Chu was greatly outnumbered in Lumberton, so it IS quite interesting that Cantey viewed her as a "threat."
County elections board chairman Tiffany Powers (D) is slated to appear before the state board of elections on Thursday to respond to allegations of improper electioneering.  (The weather may postpone that hearing.)
Election Day in the Ninth Congressional District is September 10.