NC-03: Hangin' with Lindsey and Don (and a few hundred others)
I found this gem on Twitter last night: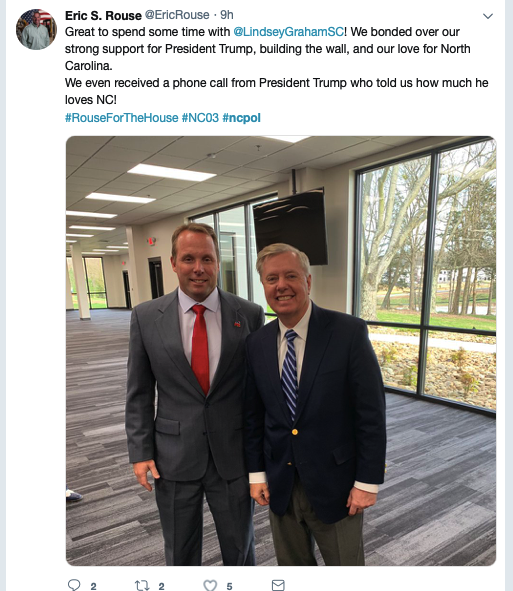 In case you didn't know, Eric Rouse is one of the gaggle of candidates seeking the GOP nomination for the Third Congressional District's seat in  Congress.   If all you knew was what you saw in this tweet, you'd think Rouse and Graham were hanging out when their "pal" Donald Trump called.  *One heck of  an intimate conference call was had. *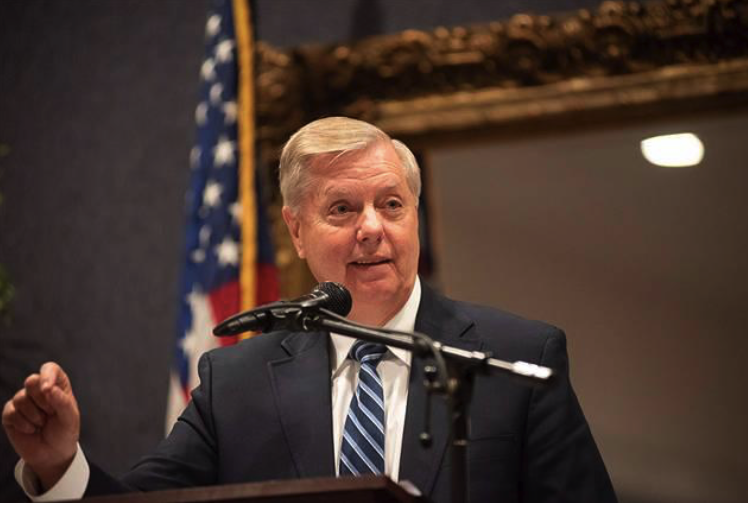 Well, Mr. Rouse left out some important details — which were filled in by the folks at the Asheboro Courier-Tribune.  (Asheboro is in the SIXTH Congressional District.  Rouse, again, is running in the Third.) :
President Donald Trump spoke at the Randolph County Lincoln Day Dinner Friday night.

Even though he was at his Mar-a-Lago retreat in Florida, Trump made a phone call to U.S. Sen. Lindsey Graham while the South Carolina lawmaker was giving a speech at the AVS Banquet Centre in Asheboro.

According to Dave Craven, chair of the Randolph County Republican Party, Graham's phone rang while he was speaking. Someone said, "If it's Trump, answer it." Graham, indeed, answered and soon held his phone up to the microphone.

"The president wished everyone well," Craven said, "and said he was sure we were being entertained by Sen. Graham."  […] 
As you can see from the photo, it wasn't exactly an intimate gathering involving Graham and Rouse.  (It really shouldn't come as a shock that a politician exaggerates things.  But this was just too much of a special case to pass up.)
A well-placed source, who has ties to both the state and national GOP political efforts,  tells us that President Trump calling in like that is nothing new. In fact, he did it last weekend while congressman Mark Meadows was speaking at a western North Carolina county's GOP dinner.
My source tells me Trump political aides have coordinated with certain favorite politicians in DC.  Whenever said favorite pols are speaking to a large gathering in a battleground state — like, say, North Carolina — the politicians are asked by Trump aides to leave their contact number and a rough estimate of the time they'll be up speaking at the podium.  Thus facilitating a "surprise" call from the president where he can speak candidly and directly with the crowd of GOP supporters.