That's what we're hearing.  Influential folks in high places are telling us that Moore County Partners in Progress — the county's economic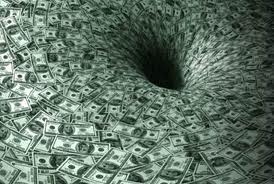 development group — and Montgomery County are planning to "forgive" the $50,000 loans they bestowed upon the Heart of Carolina Mega Park in 2011.   (First Bank, headquartered in Southern Pines, loaned the project $150,000.  We have no information on whether the bank plans to follow the lead of the two counties.)
The industrial park was established along the border the two counties share so it could take advantage of Montgomery County's more generous tier ranking with the Department of Commerce.
Since its inception, the park has become little more than a great place to fly a kite or exercise your dogs.  Critics have long targeted the park for its remote location,  lack of access to natural gas, and emphasis on a business sector that is rapidly relocating to overseas locations.   
Promotional materials for the park pitch a $12,500 tax credit per created job and a seven percent tax credit for investment in personal property. The Mega Park was also pitched as an "eco-friendly development" — "protect[ing] wetlands and wildlife habitat, green and sustainable, preserv[ing] natural aesthetics, restrictive covenants, and target[ing] industries supporting environmental sustainability."
.