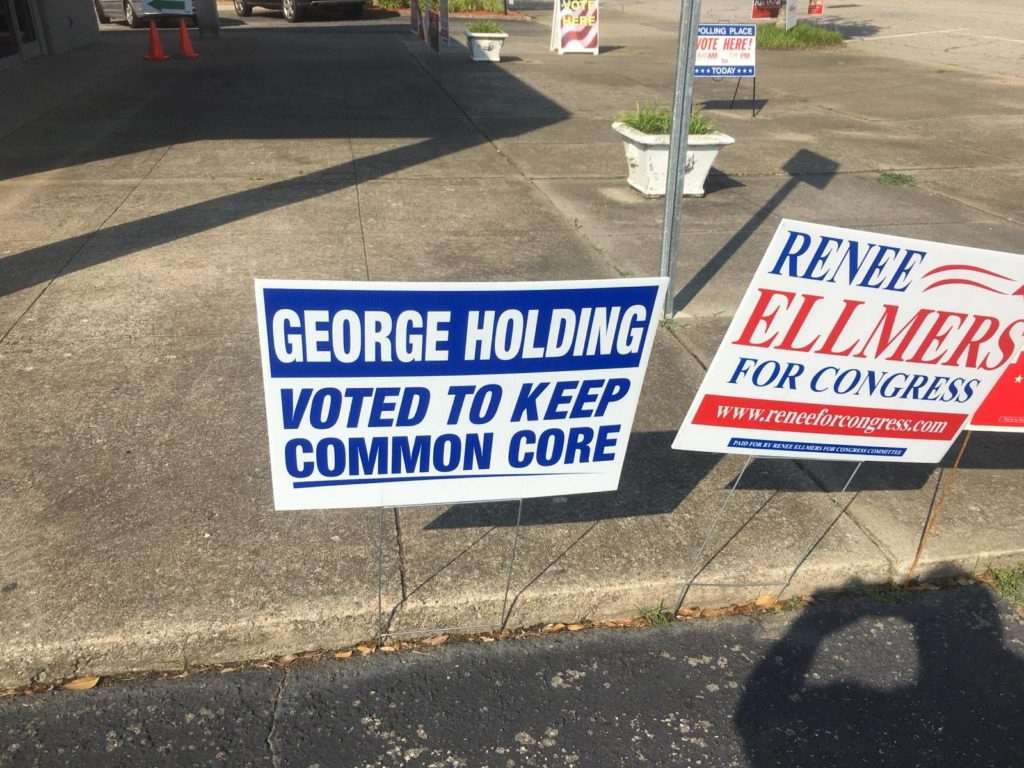 I am hearing things are getting a little rough on the ground in that 3-way fight between George Holding, Renee Ellmers and Greg Brannon. My sources are telling me that some of the Holding campaign's yard signs are disappearing to be replaced with signs of similar style that claim Holding supports the dreaded Common Core curriculum.  (Of course, there is no 'paid-for-by' statement on the signs so you can tell where they came from.  They're certainly not Holding's.) 
Yanking up someone's campaign signs from a spot where they had permission to plant them, without their permission, is UNCOOL to say the least.  I don't care whose signs they are.
I decided to do a little research to see if i could find ANY basis for the claim Holding supports Common Core.  I found a House vote from 2014 on H. Amendment 53 to HR5.  The amendment's purpose was IDed as:  To prevent the Secretary of Education from using grants or waivers to coerce states into adopting or keeping Common Core or other national standards.
According to tracking from FreedomWorks, both Ellmers and Holding voted YES on that amendment.  If you have a link, or any other kind of reference, showing George Holding supporting Common Core, please get it to us.
According to FreedomWorks, these are Ellmers's conservatism rankings:  2011 – 77%, 2012-42%, 2013-64%, 2014-55%, 2015-52%. .
Here are Holding's: 2013 – 77%, 2014 – 86%, 2015 – 90%.