Lt. Dan's Lindberg connection?
Robin Hayes's relationship with Eric Lindberg earned the state Republican Party chairman a federal indictment.  Now, we come across THIS on Facebook: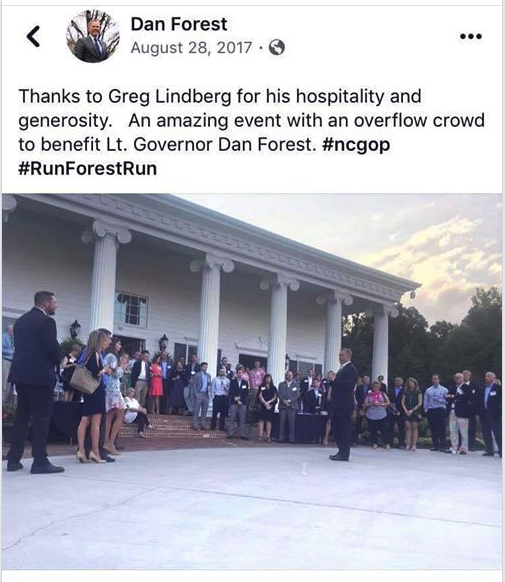 There were also media reports in 2018 about  PACs tied to Forest getting endowed quite generously by Lindberg:
[…] Lindberg made his first $400,000 contribution to a Forest-related campaign organization in August, finance records show.

[…] But Lindberg's political activity stepped up dramatically in the second half of 2017. Between August and December, he gave a total of $1.4 million to the NC Republican Council of State Committee, which is run by Forest and can also spend money on behalf of other GOP Council of State officials. While Forest's campaign can only accept donations of up to $5,200 per donor, the Council of State Committee can accept unlimited contributions.

The committee was created under a 2015 law that allows groups of Republicans or Democrats in either the legislature or statewide elected positions to create fundraising committees that act like political parties, but are controlled by elected officials.

As the only donor to the Council of State Committee, Lindberg effectively bankrolled the group's $42,000 in video equipment purchases – a move that came around the same time a nonprofit run by Forest donors contributed TV studio equipment to the lieutenant governor's office. That studio is only used for official government business, but having video equipment at the Council of State Committee's Raleigh office could allow Forest to produce campaign videos as he seeks to raise his profile ahead of a gubernatorial run.

Lindberg was also the sole donor in 2017 to Truth and Prosperity, a super PAC that supports Forest, giving $1 million in late December. That group – which unlike the Council of State Committee can't legally coordinate its activities with the Forest campaign – did not have any major spending in 2017. […] 
Believe it or not,  we like Dan Forest around these parts.  In light of today's news involving Hayes, Mr. Lindberg, and others, we think it's time for the lieutenant governor to persuade all of us that we have nothing to worry about in regard to his relationship with Mr. Lindberg.
Continuing to be silent won't cut the mustard.  If Forest doesn't want to deal with it now,  Roy Cooper's opposition research team will gladly force him to do it during the 2020 gubernatorial campaign.