Lt. Dan launches, N&O foams at the mouth (collectively).
I swear.  I haven't seen the newsroom at The N&O this agitated and aggravated since the late, great Jesse Helms prowled the halls of the US Senate.  Lt. Governor Dan Forest has announced his intention to evict Roy Cooper — who did NOTHING for 16 years or so at the AG's office and benefited from a bunch of ballots that appeared in the middle of the night in Durham County — from that big house on Blount Street.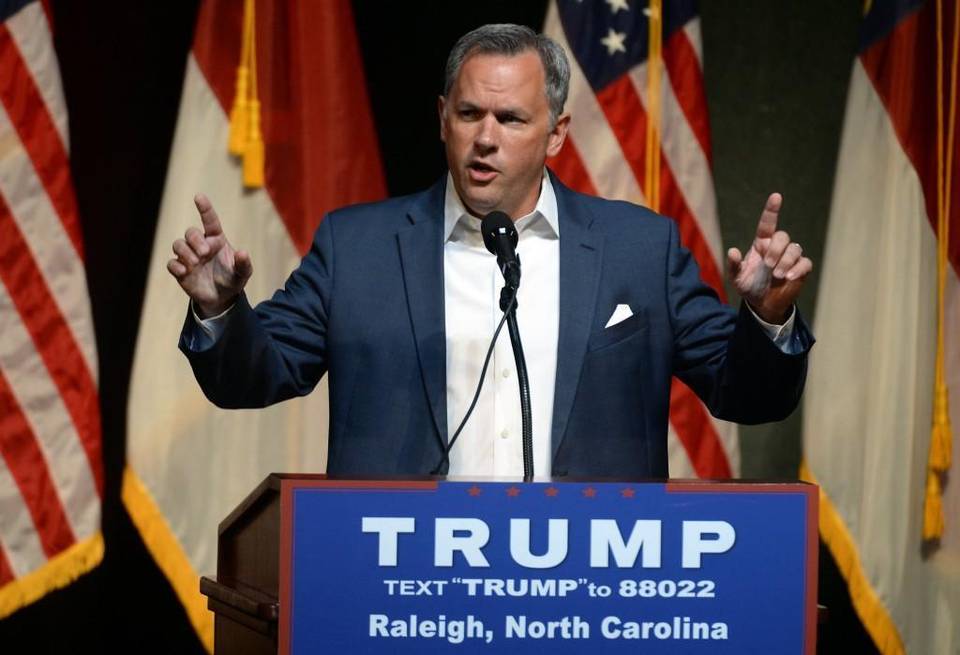 The drivebys at "The Ol' Reliable" can't let Cooper get all unemployed just yet.  Their paper is circling the drain, and they desperately need press assistant jobs or some other escape route:
He pitched his ticket around unifying North Carolina, which in the words of his campaign meant "rejecting identity politics that seek to divide people and inflame public discourse."

"We have a real problem in North Carolina, and it is one we see all across the nation," Forest said. "People are trying to divide us and use identity politics … Politicians kindle the flames of divisiveness because they know they can raise more money if they make people angry and afraid."

While his roughly 10-minute speech touted his viewpoints against abortion rights, expanding school choice for North Carolinians and being more competitive on recruiting businesses to the state, the largest cheer Forest received was after he denounced socialism.

"Regardless of what Nancy Pelosi says, or crazy Bernie Sanders said, or (Alexandria Ocasio-Cortez), socialism does not work," Forest said to a round of applause.

"We have a bit of a problem because a lot of our young people hear socialism and think it means social good," Forest said. "… But socialism is as far away from social good as you can get."

To unseat Cooper, Forest will likely have to win over the portion of voters that split their ticket between President Donald Trump and Cooper, who managed to beat former Republican Governor Pat McCrory by a slim margin in 2016 even as Trump carried the state.[…]
This is where the drive-bys do Wayne Goodwin and Thom Tillis's dirty work — trying to convince us that standing by conservative beliefs is an electoral LOSER.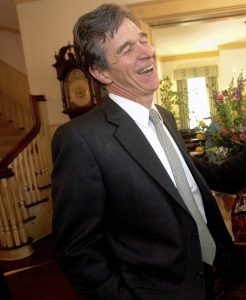 Who actually split their votes between Trump and Cooper?  You can likely count those people on  one hand and have fingers left over.
McCrory 2016 was a textbook example of incompetence.  (Many of us begged and pleaded with the McCrory campaign to make a major issue out of all those untested rape kits at ol' Roy's DOJ as well as the backlog at his crime lab that was forcing local law enforcement to hire their own private labs to do CSI work. )
Pat McCrory kicked sand in the face of just enough supporters (toll roads, promised appointments, etc.) to force a significant number of normally reliable GOP voters to go third party or to leave the gubernatorial line BLANK.  All you have to do is compare his numbers to Trump and Forest's numbers.  Both of those guys stood strong on conservative positions and WON.
(Again,  the magically, mysteriously appearing in the middle -of -the-night ballots in Durham County did a serious number on McCrory too.  But if he had taken ballot security and the board of elections even halfway seriously,  he might have been able to neutralize that or overcome it.)
MORE:
[…] Many viewed McCrory's loss in 2016 as a repudiation of his support of House Bill 2, known as the "bathroom bill," which prohibited local governments from enacting anti-discrimination protections for LGBT people and required people in government facilities to use bathrooms matching the gender on their birth certificates.[…]
"Many" is drive-by code for "me and my dwindling pack of pals in the newsroom."  Forest passionately supported HB2 and won big.  Dan Bishop wrote the bill and got reelected to the state Senate.  (He's likely to be elected to Congress here in a few weeks.)
MORE:
At the same time as his rally, the Democratic Governors Association put out a press release calling Forest the "chief architect" of HB2.

In an interview, Forest said he doesn't think he needs to have a specific message for those voters who went with Cooper last time. Rather, he said, he would be focused on building a message for the entire state.

"I think everyone wants to unify right now, not just in our state, but across the country," he said. "I think it's probably one of the biggest challenges that we face. The flames are just being stoked out there, and it is time to stop."

When asked what mistakes Cooper has made during his first term, Forest highlighted the breakdown of budget talks with the General Assembly and his veto of an abortion-related bill.

Forest said Cooper hasn't shown a real desire to sit down with Republican leaders in the General Assembly and hash out differences over the budget. Drawing a line over Medicaid expansion in the state, rather than signing what Forest called "a good budget," was a mistake, he said.

"I think health care is a real issue, I don't think anyone denies that," Forest said. "I think we need to have a serious forum in our state to bring people together to ask what is the best way for North Carolina to deal with the health care issue. But to hold up the budget, which is a really good budget that can move a lot of things forward, I would say that is one (mistake)."

Forest added that he plans to roll out his own health care policy.

"I think we should develop a North Carolina plan; it doesn't have to be a federal government plan," Forest said. "Medicaid comes with a lot of strings attached to it and is not always the best form of health care either for the poor."

On the "born alive" bill, which would have brought new penalties for medical professionals who allow abortion survivors to die, Forest said the law should have been passed.

"The governor said we just didn't need it," Forest said. "But my take is, if it is not needed, then go ahead and sign it and tell people you stand for life."

Forest's campaign highlighted anti-abortion viewpoints, indicating he will try to make the topic one of the main points of contention in the 2020 election.

While his speech did not directly mention Trump, he said his campaign was committed to supporting the president, who will likely visit the state often in 2020.

North Carolina stands to be a key state in the 2020 election, and the Republican convention will take place in Charlotte next summer.

"We have been supporting the president all along," Forest said. "We think the president is popular because he has done what he has said he was going to do and he is delivering on his campaign promises. And I think people appreciate that."