Key player in L'affaire LaRoque wavering on re-election bid?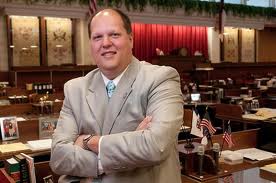 A Republican legislator who got a taxpayer-financed loan from embattled state Rep. Stephen LaRoque is being rather coy about whether he will seek re-election to his seat in the state House. The Hickory Daily Record has the story:
Rep. Mark Hilton, R-96 District, said Thursday that he will announce next week if he will run for a seventh term.

"I've made a decision, but I have not announced it," he said. "I'm going to put out a statement to address whether or not I will run again."

Hilton, 45, of Conover, is a self-described "very conservative" Republican and has represented Catawba County in the General Assembly since he was elected in November 2000.

Hilton said the forthcoming announcement may address his future plans, but it hasn't been written yet.

Some have speculated that Hilton has decided not to seek re-election because of his connection with embattled state Rep. Stephen LaRoque, R-Lenoir. LaRoque, from Kinston, is the executive director of East Carolina Development Co. and Piedmont Development Co., which has received more than $8 million through a U.S. Department of Agriculture's program aimed to combat poverty by loaning money to entrepreneurs.

According to North Carolina Policy Watch, LaRoque has received as much as $195,000 annually as salary and loaned hundreds of thousands of dollars of the USDA program funds to friends and political allies.

Hilton received a $150,000 loan from LaRoque's Piedmont Development Company in 2007 for a rental property management company, according to NC Policy Watch.

"My decision has nothing to do with LaRoque," he said. "He was not in the legislature at the time he gave me the loan."

At the time, Hilton was in the legislature, but LaRoque was not. Hilton said the loan was given for a six-year term at six percent interest.

The money was used to purchase 41 mobile homes in Hickory and the surrounding area. The homes are investment rental properties operated by Hilton Ventures, which is made up of Mark Hilton and his father, Hilton said.

"We were just buying them as an investment," he said. "That loan is about paid off."
Hilton and Sen. Debbie Clary reportedly received loans from LaRoque.  Hilton, Clary, and LaRoque are all long-time close political allies of Moore County's SpeakerrrrrRichardMorgan™ .   Clary has announced her plans to retire from the legislature.