Occupy Raleigh + ACLU = OMG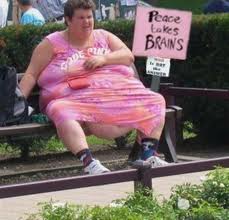 Our "friends" in the ACLU are jumping in to defend the Occupy rabble arrested the other day for trespassing at the Capitol in Raleigh.  Specifically, the shysters are aiding a 57-year old female protester claiming her First Amendment rights were violated.  Why?  The N&O has the story:
Police arrested Margaret Schucker and seven other downtown demonstrators who would not leave the sidewalk in front of the Capitol on Oct. 27.

Schucker wore a blue and white handicapped permit on her chest and told officers she had back problems and needed the chair to participate.

Officers told Schucker she had a right to stay but that she could not continue to sit in the chair on the sidewalk.

Several of the protesters briefly resisted arrest by locking their arms together, but Schucker thrust her wrists out to the officers waiting to handcuff her. Schucker is represented by ACLU cooperating attorney Scott Holmes of the Durham law firm of Brock, Payne & Meece, and by Katy Parker, legal director of ACLU.

"I wanted to exercise my free speech rights on the same terms as my fellow demonstrators," Schucker said in a news release. "The only difference was that, because of my chronic lower back pain, I couldn't stand while demonstrating and had to use a chair. As a disabled person, I have always been very aware that the sidewalk must be kept clear so that everyone may pass. If I had moved to the bench on the Capitol grounds, as the police suggested, I would have been removed from the view of passersby with whom we were trying to engage."

Court records show Schucker's trial date as Thursday. An ACLU spokesman said no defense is being offered for the other arrested protesters.
Really? I teach college courses three hours at a time.   I am on my feet the whole time.  My feet hurt after three hours. Does that entitle me to a handicapped parking pass and A CHAIR?   It would be great to be able to stand in front of BarryO's desk in The Oval Office and protest HIM.  But I think The Secret Service would have something to say about that.  I have the right to protest BarryO, but I am limited in how I do it, and where I do it.
Ironically, Occupy Raleigh is playing the capitalism game while protesting capitalism.  Blocked by the city from camping out on public property, the protesters are renting an undeveloped lot from a Raleigh businessman:
This isn't luxury living, group members said Monday as a steady rain began to turn the ground soggy. But it sure beats sleeping on the sidewalk.

Since opening on Thanksgiving, the encampment just off Hillsborough Street has served as a place to eat, sleep and organize while demonstrators continue their daily protests in front of the state Capitol four blocks east.

The best part, organizers say, is that the property owner gave permission for the tent village, meaning occupiers did not have to win approval from city government to use public land.

"Now that we have a place, we can focus our efforts on the actual movement instead of just holding onto a sidewalk," said Jeremy Gilchrist, 34, a regular participant since the protests began in October.

"We don't have to worry about being evicted by police."

But the new site could still face legal obstacles. Raleigh officials are reviewing city zoning rules to determine whether an encampment is allowed on the triangular lot where Hillsborough, Edenton and West streets come together.

"Just because it is an undeveloped parcel doesn't mean anybody can do anything on it," City Manager Russell Allen said Monday.

The Occupy Raleigh demonstrations are among many nationwide held in sympathy with Occupy Wall Street, where people began gathering in September to protest the uneven distribution of wealth and power in the country.

Following a series of arrests in front of the Capitol, organizers sought permission for an encampment outside Raleigh City Hall. But their request stirred opposition from neighboring apartment dwellers and city officials concerned over liability.

With a home base established, members say they can host workshops, guest lectures and other activities to generate support. Last weekend, Occupy Raleigh hosted an informational booth at the flea market on the state fairgrounds.

Property owner Rob Baumgart, a Raleigh businessman, said he offered his land after reading about the group's plight in The News & Observer. Baumgart said he agrees with Occupy's embrace of small business – but does not consider himself a supporter.

"I had a supply, they had a demand," Baumgart said. "That's capitalism. That's the way the U.S. works."

The group is paying monthly rent of $400 for the spot. An anonymous donor offered to cover the cost.