Huffington Post: 69% probability Hagan leading Tillis, Haugh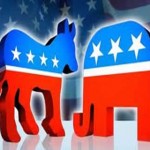 The Huffington Post — a left leaning web site — has joined the crowd of folks running analyses on the 2014 North Carolina US Senate race. They show a polling average  — based on data from May to the first week of August — of Hagan 40.7%, Tillis 39.7 %, and Haugh 7.8 percent.  Their model finds a 69 percent probability that the incumbent Democrat leads the field.
You can add that to the 50 percent, 53 percent, 56 percent, 67 percent and 98 percent estimates of Hagan's reelection chances already out there.  The campaign season is expected to blast off like a rocket following the Labor Day weekend.  the numbers that will matter most come out the evening of November 4.