HOT lanes have taxpayers hot under the collar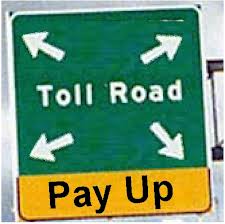 North Carolina legislators seriously talked up tolls on I-95 in 2011 and 2012, but that idea got shot down by Renee Ellmers, Mike McIntyre, a number of legislators with districts along the interstate thoroughfare, and a huge outcry from the citizenry.   Now, in 2013, a new twist on the concept of toll roads is being pushed in Mecklenburg County by House speaker Thom Tillis and other area leaders that has grassroots groups hopping mad.  
What's the fuss about?  It's about HOT (High Occupancy Travel) lanes being installed on I-77, one of Mecklenburg's busiest roadways:
It's rush hour. Driving from exit 28 to exit 25 takes 20 minutes. If there's an accident, expect a 45-minute odyssey.

Welcome to Interstate 77 in Mecklenburg County, the only major road to parts north of fast-growing Charlotte—and for some a four-lane hellscape long overdue for improvements.

State leaders say roughly $550 million in relief for I-77 is en route in the form of high-occupancy toll lanes, better known as HOT lanes, that are run by a private tolling company.

This public-private partnership could set a statewide precedent and eventually affect highways in the Triangle.

The concept is simple: Drivers can pay a toll—the amount varies—to travel a guaranteed minimum speed of 45 mph. A private, for-profit company under contract for 50 years will manage it, setting toll prices that fluctuate in order to keep HOT lane use low enough to ensure traffic flow. The more cars in the lane, the higher the toll, and vice versa.

Critics say the plan will do little more than speed commute times for the wealthy, but proponents in the N.C. General Assembly and the Department of Transportation (DOT) say it's a relatively quick solution for a long-term problem. Assuming nothing changes, the 23-mile project will be completed in three to four years.

"People will be able to make the choice," says DOT spokesperson Greer Beaty. "What's more important to them: time savings or money savings?"
Greer Beaty is a Democrat activist who ran for the state House as a Democrat.  Why is she the chief spokesperson for a Republican administration's DOT?  More:
The implications of the I-77 project are far-reaching. HOT lanes are popular in urban areas such as northern Virginia, southern Florida and Georgia. And they may be the future of congestion relief in budget-strapped North Carolina. DOT engineer Victor Barbour says HOT lanes could be built on I-40 in Wake County and "any interstate project close to an urban area."

The impetus is cost-driven. Between 2015 and 2020, the state will face more than 1,100 potential highway construction projects costing $45 billion, Beaty says. In that time, DOT is estimated to have just $9 billion to spend.
We have THE HIGHEST gas tax burden in the southeastern United States.  The gas tax is supposed to be funding road work.  Where is all of that money going ???
"We don't have anywhere close to the amount of money that would be required to do all the things that communities would like to do," Beaty says. "So finding new ways to leverage the dollars that we have is pretty important. This is a way."

[…]

Some Mecklenburg-area residents—Republican, Democrat and independent—are troubled by the prospect, leaving them clamoring for changes in DOT informational sessions this winter.

"Our elected officials need to respect the people," says Vallee Bubak, a Davidson resident and member of the North Mecklenburg Republican Women. "When you have an overwhelming majority of people saying this is not the way to go, our elected officials need to listen to us."

House Bill 1077, passed last July, specified that the state can assign tolling authority to private entities. Sponsored by former lawmakers Grey Mills Jr., R-Iredell, and Phillip Frye, R-Mitchell, the measure received broad support from Republicans and Democrats in the General Assembly.

But critics like Kurt Naas, a Cornelius resident and owner of an area manufacturing facility, say arguments in favor of HOT lanes are misleading.

"I think people are under the impression that these toll lanes are going to help relieve congestion," Naas says. "They actually ensure congestion because the only time people are going to use the toll lane is when the general purpose lanes are congested. So toll lanes only offer an alternative to congestion, not a solution." […]

Additionally, Winegardner says toll lanes and traffic jams will detour penny-pinching motorists onto secondary roads. In the Mecklenburg area, that would be roads like N.C. 115, a two-lane stretch near Lake Norman ill-suited for the demand.

Critics have good reason for concern, says Sen. Curt Thompson, an Atlanta-area Democrat in the Georgia General Assembly. HOT lanes in Atlanta have not succeeded, he says, and have little public support. Thompson was a proponent of Georgia Democrats' failed bid last year to ban new HOT lanes in the state.

"I don't think it's been done well at all, and it's not a good use of money," Thompson says.

Thompson says the Atlanta lanes—which were formerly operated as high-occupancy vehicle (HOV) lanes for carpoolers—have worsened the situation by funneling some carpoolers into general traffic.

That's true, according to Brian Gist, an Atlanta attorney with the Southern Environmental Law Center who has researched HOT lanes nationwide. Gist says in general, HOT lanes make commuting easier for about 5 percent of motorists. The remaining 95 percent are largely unaffected.

"The fact that there's little benefit for non-toll-paying lanes is a function of what HOT lanes do," Gist says. "They're not intended to make every lane better. They're intended to make that lane better."

North Carolina's I-77 plan is slightly different from Atlanta's. However, critics such as Thompson say its moderate differences will only bring "marginal" improvements.

More than a quarter of the 23 to 26 miles of affected I-77 will be converted from HOV lanes to HOT lanes, as in Atlanta. The remainder will be newly constructed lanes, Barbour says. For most of the project, there will be two new lanes traveling both directions. In some stretches, there will be one new lane.

According to the DOT, HOT lanes can cost up to 10 percent more than general lanes because of added buffers and toll equipment, although officials point out the state will pay roughly one-third of the $550 million price tag. The vendors pick up the remainder.

As far as road projects go, it's moving speedily. DOT officials expect to award a contract to a private vendor in August, with construction to launch in spring 2014.

Barbour says the state will have limited influence over the toll prices, with the contract specifying that the management company share profits with the state if margins become too high, he says.

"What tends to happen is they try to maximize profit but not make it so much that they have to share it with the state," Barbour says. "We want it to be as market-driven as possible."
The "conservative revolution" sure has gotten quiet on the subject of cutting back spending and the size of government.  There's not a word about cutting their expenses and shifting some money around to pay for important road projects.  Instead of trimming the bureaucracy, they jacked up the unemployment withholding.  The people suffer and sacrifice before Raleigh does.  They get to spend as much as they want while bleeding even more out of us. 
Toll roads are a bad idea.  I lived in the Richmond, VA area in the 70s and 80s when tolls were in place on I-95.  The citizenry nearly rioted, forcing the state to remove them.  We don't have a revenue problem.  We have a spending problem.  I want to see SOME sacrifice from state government before they come to us demanding more from our wallets.