#hayesscandal: Lt. Dan speaks up
McClatchy got Lt. Gov. Dan Forest — the GOP frontrunner for governor in 2020 — to speak up on this week's indictments and his relationship with donor Eric Lindberg:
[…] From 2016 to 2018, Lindberg donated just over $7.5 million to both super PACs and state and federal political committees, according to campaign finance records filed with the NC State Board of Elections and the Federal Election Commission.

The largest of those donations included $1 million in December 2017 to Truth and Prosperity Committee, an N.C. super political action committee for which Lt. Gov. Dan Forest has raised money, and a total of $1.4 million to the N.C. Republican Council of State Committee, which Forest chairs. That same committee reported in-kind expenditures of $48,582 to the Committee to Elect Dan Forest from April to November in 2018.

A Forest spokesman said Tuesday following the indictment of Lindberg that the lieutenant governor was not interviewed or subpoenaed during the investigation into bribery and conspiracy. Hal Weatherman, chair of Forest's exploratory committee to run for governor, said Forest's official campaign had not received contributions from Lindberg.

In a statement, Forest said of Hayes, Lindberg and others: "I know these men and consider most of them friends. I have read the indictments and they are very troubling. I believe in the presumption of innocence and thus will withhold judgment. But I agree with the rule of law and if laws were broken, then justice should be served. They are facing serious charges."[…]
First, I don't know if I'd publicly call ANY of those guys under indictment "friends." (Even if they ARE, or WERE.)
(Most people don't give you millions of dollars just because they love you.  There is typically an expectation of a return of some kind.)
Let's get to the troubling part of the story.  Forest GOT  the treatment Lindberg had allegedly offered Mike Causey (according to the indictment).  Lindberg's team had promised Causey a fundraiser AND some big contributions to his campaign.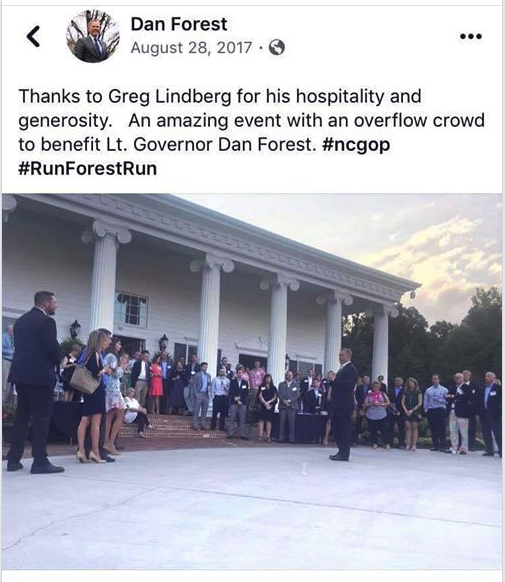 We've got photographic proof that Lindberg threw a big fundraiser for Forest.  We also have documentation to prove the contributions to the Forest-tied PACs.
We NOW need to hear from Forest that (1) there was no quid pro quo tied to the fundraiser or those donations, and (2)  neither he (Lt. Dan) nor anyone tied to him did anything special for Lindberg as a condition for receiving that fundraiser and those contributions.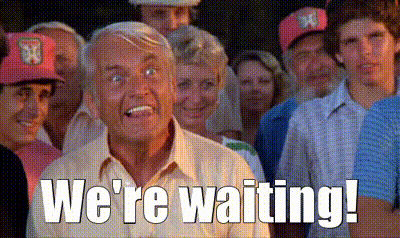 (Seriously.  What would our side be saying if we were talking about Roy Cooper, Walter Dalton, or Bev Perdue instead of Dan Forest?)