Gov. Pat takes a page from Thad Cochran's political playbook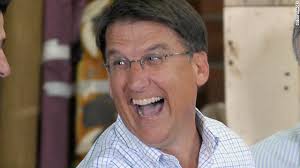 In Mississippi, when incumbent US senator Thad Cochran appeared to be going down in flames to Tea Party candidate Chris McDaniel, GOP establishment types sold their souls and threw in with Democrats to fend off the conservative hordes.  It looks like Pat McCrory — apparently unable to get his fellow GOPers in the General Assembly to listen to him — is taking a page out of that Mississippi playbook:
Trying to drum up support for Gov. Pat McCrory's budget veto threat, his education adviser Eric Guckian sent an email to lobbyists for education-related groups, about a half dozen school superintendents, and N.C. Association of Educators leaders asking for backing.

McCrory last Thursday threatened to veto any budget that included an average 11 percent teacher raise – a raise Senate Republicans are pushing – because it would mean deep cuts in other areas. McCrory said he backs a House proposal that includes 6 percent average teacher raises.

The same day, Guckian sent an email asking for "public statements in support" of McCrory's veto pledge. The email went to Heath Morrison, superintendent of Charlotte-Mecklenburg Schools; Cumberland Superintendent Frank Till; State Board of Education Chairman Bill Cobey; NCAE President Rodney Ellis; and Democratic State Superintendent of Public Instruction June Atkinson, among others.
Ah.  The Republican administration teaming up with a bunch of folks who campaigned for — and likely voted for — Walter Dalton and Barack Obama.  MORE: 
Morrison and Till were two of the superintendents Republican Senate negotiators walked out on last week when House negotiators asked them to talk about the impact of losing teacher assistants, a spending category the Senate budget cuts by $233 million.

The budget – now two weeks overdue – has touched off an intense intra-party fight, with the Republican governor siding with the Republican-led House against the Republican-led Senate.

"Our state needs swift and public statements of support from you all," Guckian wrote. "We simply cannot allow a small and powerful minority to control the future of North Carolina. This is not a partisan issue, as the House vote of 117-0 in support of the Education Promise Act confirms. This is about doing the right thing for children and for all of the educators that are charged with their care. Please feel free to call me with any questions or concerns, but I urge you to act. The time is now."
Small and powerful minority?  It's the GOP majority in the North Carolina Senate. 
And WHO exactly is this Guckian fellow that the governor has put on the point in the battle against his fellow Republicans? Well, for starters, he's a Democrat from Chapel Hill.   He's also a big Common Core shill with extensive ties to the far-left Bill & Melinda Gates Foundation.   Read more on this guy from our friend Lady Liberty.