From Hope & Change to GIMME ALL YER LOOSE CHANGE OR ELSE !!!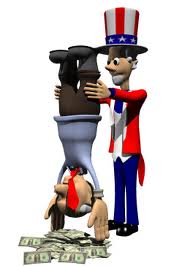 Well, another Tax Day is in the rear -view mirror (for those of us who did not file for an extension, at least).  John Hayward, writing at RedState, has an excellent piece on how Americans SHOULD view Tax Day.
Is anyone else struck by the irony that our tax returns are due on the anniversary of  the first shots of The American Revolution ?
The Tax Foundation calculates that national Tax Freedom Day will arrive on April 18.  THAT is the day they calculate ALL Americans will have worked enough to pay off their tax bills.  (In 2011, Tax Freedom Day was April 13.  In 2012, it was April 17.)
The foundation calculated North Carolina's Tax Freedom Day to be April 10.   THAT is the day we work enough to pay off all of our local, state, and federal tax debt.
How do we stack up to our neighbors?
Tennessee's Tax Freedom Day was April 2.   South Carolina's is April 3.  Virginia is the straggler at April 20.