Four days old, and the Whatley team is already screwing the pooch
NCGOP officers aren't supposed to be getting involved in GOP primaries.  Making endorsements.  None of that stuff.
Former senator Buck Newton — who got spanked in November 2016 by Josh Stein — issued an endorsement today of Joan Perry in the Third Congressional District GOP runoff.  New NCGOP chairman Michael Whatley named Newton the new state party treasurer after taking power this weekend.
So, we have one of the highest ranking officers in the NCGOP publicly endorsing a candidate in a Republican runoff election. (For the record, Perry's campaign is being run by Michael Luethy, who ran  Newton's disastrous 2016 general election campaign for attorney general.)
This was posted on Perry's campaign Facebook page: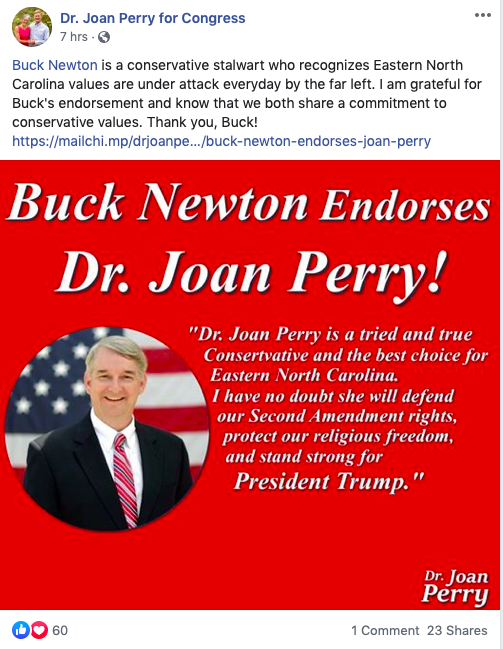 This email was sent out all over the place TODAY:
Former AG Nominee & Senator Buck Newton Endorses
Dr. Joan Perry for Congress

Today, former Republican Attorney General nominee and State Senator Buck Newton endorsed Dr. Joan Perry for Congress in the NC-3 Special Election to fill the seat of the late Congressman Walter Jones. While in the state senate, Newton established himself as a strong conservative leader who led efforts to reduce regulations on gun ownership and protect religious liberty, and toughen punishment for sex offenders. Prior to his time in the state senate, Newton served as the Chairman of the Wilson County Republican Party and as an aide to U.S. Senator Jesse Helms.

"Dr. Joan Perry is a tried and true conservative and the best choice for Eastern North Carolina. I have no doubt she will defend our Second Amendment rights, protect our religious freedom, and stand strong for President Trump," said Newton. "We can rely on her because the Christian faith is the foundation of her guiding principles. I'm happy to endorse Joan because I know she cares more about Eastern North Carolina voters than any Washington insider."

"Buck Newton is a conservative stalwart who recognizes Eastern North Carolina values are under attack everyday by the far left. Through hard work and unwavering commitment to our conservative beliefs, Buck exemplifies Republican leadership like we need in Washington," said Perry. "I am grateful for Buck's endorsement and know that we both share a commitment to conservative values."

[…]
 Considering the difficulty Mr. Newton has in following the rules of the North Carolina Republican Party, it's probably  a good thing we didn't elect him attorney general.
Newton's choices NOW?  He's got to quit the treasurer job, or retract the endorsement.  (I don't think there's a middle ground here.)