FORMER GOV JIM MARTIN FOR NCGOP CHAIRMAN?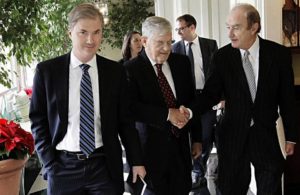 That is the hottest rumor floating around Raleigh right now.  I am told the mutineers against incumbent chairman Hasan Harnett have secured the services of the former governor to step in and take the reins of the state party in the event current chairman Hasan Harnett is fired on April 30.  
I remember Martin leaving office — throwing a fit, claiming he was DONE with politics because The GN&O and the rest of the drivebys were not nice to him.
I also recall him doing quite a bit of parading around with Jim Hunt, the capo di tutti of the state's corrupt political establishment.
I also recall his endorsement of the John Kasich presidential campaign. 
Many of you may also recall his oversight of the initial UNC athletics probe: 
Nearly three years ago, former Gov. Jim Martin made a blunt pronouncement about the UNC-Chapel Hill academic scandal that brought cheers to fans of the university's sports teams and relief to some public officials.

After investigating the scandal for four months, Martin delivered this conclusion to UNC trustees in a hotel ballroom packed with UNC officials and reporters: "This was not an athletic scandal. It was an academic scandal, which is worse; but an isolated one."

UNC officials quickly seized on the finding to tell the public it was time to "move forward." Shortly after, one trustee and UNC Athletic Director Bubba Cunningham said in an email exchange that the report likely dissuaded the NCAA from digging more deeply into the scandal.[…] 
Going along with the mutineers would be a great way for Martin to kill off what's left of his political legacy.  Hopefully, someone will talk some sense into him about this.
I know there have been efforts to recruit former Chatham County GOP chairman Jim Duncan to take the post.  A source close to Duncan tells me:
"Jim wouldn't touch this train wreck with a ten-foot pole.  He may consider running for chairman one day in the future, at an actual convention, when the position is open."