Ellmers-Etheridge: The Sequel ???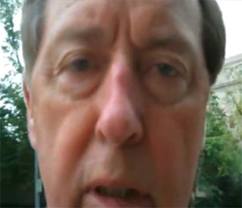 I've believed for some time that Bob Etheridge was planning a comeback bid in North Carolina's Second Congressional District, now held by freshman Republican Renee Ellmers.   The man most associated — next to Roger Daltrey — with the question "Who Are You?" has been seen at Democratic campaign meetings in Washington, and is STILL maintaining his campaign web site.
The N&O has reported anti-Ellmers robo-calls narrated by Democrat campaign consultant James Carville going out across the 2nd District. Carville, who guided Bill Clinton to two terms at 160o Penn, is widely regarded as one of the sharpest tools in the Democrat arsenal.  He, like Gary Pearce on the state level, does an excellent job at reading the political tea leaves.  If Carville is involved, it is clear that the Democrat big dogs in DC smell blood — and an opportunity — in Renee Ellmers' 2nd District.
The N&O finally caught up with Etheridge to ask about a potential rematch with Ellmers in NC-2:
Democrat Bob Etheridge is considering running for the congressional seat he lost last year to Republican Renee Ellmers. "I've been getting a lot of phone calls, I can promise you that," Etheridge said this afternoon. " I've been evaluating it." "I do enjoy it," he said. "I think I made a difference. I'm like any American right now – frustrated at what is going on with the Tea Party folks up there. I think they have pushed our country to the brink three times this year, and lost our country its AAA bond rating as a result of that."

[…]

Under the redistricting plan adopted by the GOP-led legislature, the 2nd district has been made more Republican. But Etheridge said it is still winnable for a Democrat, particularly in a presidential year. Etheridge, who lives in Lillington, has actually been moved into the 4th congressional district under the redistricting plan. The plan puts all three Democrats who had represented the Triangle in recent years, Etheridge, David Price, and Brad Miller in the 4th. But congressmen are not required to live in their district run.

Etheridge said he asked state  Rep. David Lewis, chairman of the House redistricting committee and a fellow Harnett County resident, about being moved out the district he had long represented. "He said he doesn't know where I live," Etheridge said. "It makes me wonder about his level of honesty or his intelligence." Etheridge said he will sit down with supporters after the beginning of the year to discuss his options.
(No word yet if this reporter was put in a headlock or screamed at … )
Remember that BarryO is holding his convention in Charlotte, and that his campaign organization is pumping people and money into the state.