Elaine Marshall (Dazed and Confused?)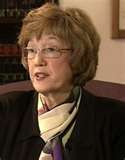 John F-in' Kerry (a/k/a Lurch, who also — if you didn't know — served in Vietnam) — is our nation's secretary of state.  His job is to carry out the president's foreign policy and communicate the nation's interests with foreign countries.
Elaine Marshall is North Carolina's secretary of state.  Her job, among other things, involves registering lobbyists, corporations, and some investigation of corporate misdeeds in North Carolina.  I can find no evidence ANYWHERE that suggests she has the duty of signing treaties with foreign countries or representing North Carolinians overseas. 
I can understand how there might be some confusion here.  There is a heck of a lot of resemblance between Elaine and ol' Lurch.  But, apparently, Miss Elaine — in addition to hanging with those filthy Occupy people — is handling North Carolina's foreign policy: 
North Carolina's partnership with the country of Moldova took center stage this month in Moldova with the signing of the fourth five-year bilateral agreement between North Carolina and the Eastern European nation. The agreement was signed during a ceremony in the capital city of Chisinau by NC Secretary of State Elaine F. Marshall, who Co-Chairs the North Carolina/Moldova Bilateral Committee, and Moldova's Deputy Foreign and European Integration Minister, Andrei Galbur.

Governor Pat McCrory signed the document before it left North Carolina and Secretary Marshall traveled to Moldova representing the State. "North Carolina has had a long and beneficial relationship with Moldova," Gov. McCrory said on Thursday. "I am grateful that this fruitful relationship will continue."

The agreement outlines goals for the many cooperative programs between North Carolina and Moldova and encourages them to continue their commitment to coordinating academic, economic and cultural exchanges.

"Each of these exchanges between North Carolina and Moldova has been a powerful lesson in how to build international understanding on a person-to-person level,' Secretary Marshall said Thursday. "I hope our partnership becomes a role model for many other states and nations."

Exchanges between North Carolina and Moldova have included North Carolina AHEC's initiative to give Moldovan health care providers access to an expansive electronic medical library, and cooperative efforts by Rotary clubs around the state, the UNC School of Public Health, and the NCSU School of Agriculture. The agreement was also signed by Moldova's Prime Minister, Valeriu Strelet. Secretary Marshall led a delegation from North Carolina that met with the Prime Minister during the trip.[…]
WHO KNEW that North Carolina had a foreign policy?  I am sure that Elaine's presence in Moldova was *critical*, and that WE paid for it, and that *no footage was shot that will ever show up in any future campaign ads.* 
Doe she think she and Lurch have the same job?  He does it for the other 49 states ???  (*She's got THIS ONE covered.* )