Boss Bev preps for her second taxpayer-funded Asian invasion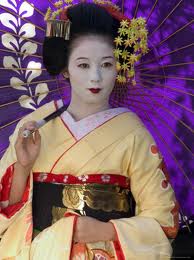 Boss Bev has "The First (hen-pecked) Husband" packing the bags for a big taxpayer-funded trip to Japan and China.  Our buffoonish governor defends her participation in this trip as vital to saving North Carolina's economy in these troubling times:
Governor Beverly Perdue is headed to China next month on a trade mission she says will help boost the state economy.

But some aren't so sure the trip is worth it.

"This is something that tangibly shows, yes, we're trying to bring jobs to North Carolina. But ultimately, it's a dog and pony show," offered Mitch Kokai with the John Locke Foundation.

But Perdue says North Carolina's economic recovery begins in China.

"China is an emerging nation. They've got so many people, North Carolina has to have a relationship with them," said Perdue.

The trade mission to China and Japan includes five cities over eight days with a budget of $50,000 billed to the taxpayer. The governor insists the cost is worth it.

"It sounds like a lot of money. I know it's a lot of money. The only way to build an international trade alliance is through personal contacts," Perdue explained.

But critics like Kokai call the trip, and others like it, a waste. Kokai's conservative John Locke Foundation group argues a more effective policy would be advocating for a more business-friendly tax and regulation policy for all business, not just ones in a particular country.

"Thats not the way real economic growth happens. Real growth happens when you set out a playing field to entice all the people that really create jobs," said Kokai.

The price tag for the trip includes travel costs for the governor and three other state officials including the commerce secretary.

The governor's husband and group of 20 to 30 local business leaders are being asked to pay their own way.

The governor's office says, over the last decade, foreign dollars have translated into 15 percent of all the investment in North Carolina.

That's $9 billion and 40,000 jobs.
According to the AP, Boss Bev has a packed agenda for her Asian invasion:
Gov. Beverly Perdue is all packed up for her second trade mission to Asia since taking office in 2009.

Perdue was slated to leave North Carolina on Saturday on her way to Beijing, China, for a week of meetings in the country with business leaders and visits to two universities that have partnerships with North Carolina schools. Perdue also plans to participate in National Governors Association meetings there.

She'll leave China next weekend for a quick trip to Tokyo for economic meetings before returning home.

State Commerce Department officials already are in China and will remain a little longer in Japan.
A few questions:  When did international relations get inserted into the job description for Governor of North Carolina?  What can Boss Bev add to economic discussions that is not already being handled by professional state commerce officials already on site?  Is it wise for her to be taking this trip  at a time when programs are being cut and employees are being laid off to balance the state budget?  Instead of traveling overseas on the taxpayer dime, why not lobby your colleagues in the legislature to partner with Republicans to reform tax policies and regulations to make things friendlier for businesses who are ALREADY here? 
These large foreign corporations are not acting out of some loyalty to North Carolina.  They are looking for the best tax deal they can find.  If — two years down the road — South Carolina offers them a better deal — they're gone.
A lot of these economic development deals involve scenarios like — say — no water bill or tax bill for twenty years.  In those cases, guess who has to shell out the cash to make up  the difference created by those giveaways?   (I'll give you three, and the first two don't count.)