"Big Gov't. Barbie" Strikes Again! (PAGING JIM DUNCAN.)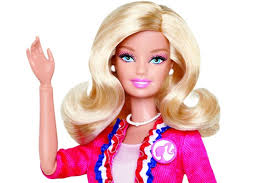 Here she is — in all her, um, "glory":
Monday on NewsMax TV's "Midpoint," Rep. Renee Ellmers (R-NC) without naming names blasted members of Congress who have come out against House Speaker John Boehner (R-OH) in his bid for a third term as speaker.

Ellmers said, "Those who are acting out right now though are getting some media attention. That is all it is. It's media attention. These are folks that thrive on it. They are bad actors right now because they are acting as though they are going against the party and there is really no substance to it whatsoever. If they truly mean what their plan was for a new Speaker of the House or moving an agenda in a different way, then they should have acted months ago and they did not."
Wow. An empty-headed attention-whore pointing fingers and making accusations.  (Boy, that DC street corner real estate must be getting awfully competitive.)  And NO substance?  A recently released poll shows SIXTY PERCENT of Republican voters want a new speaker.  Only 18 percent believe the weepy one and his tortoise-like counterpart in the Senate are cutting the mustard AT ALL.
And the folks at Breitbart lay out a hell of a good case for why Boehner HAS to go: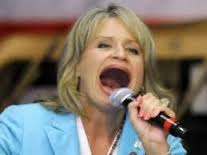 So why this ire against Boehner? Here are six reasons – and there are more where this came from:

The 2011 Budget Control Act. In 2011, Boehner signed off on the BCA, which also came to be known as "sequestration." The sequestration deal was designed to cut $1.2 trillion from 2013 to 2021; a gang of legislators was supposed to cut a deal to avoid half of those cuts coming from the military budget. Oops. That deal never happened, so the military took the brunt of the cuts.

Boehner rationalized the BCA by stating that he intended to attain cuts in exchange for raising the debt ceiling. Eventually, the debt ceiling was raised by $2.1 trillion. Boehner then undermined those overall cuts in the 2013 Ryan-Murray budget deal.

The 2011 Disaster Relief Funding Bill. In September 2011, Boehner attempted to ram through a stopgap funding measure that would have jacked up spending on disaster relief. Rep. Cynthia Lummis (R-WY) said, "I was raised to believe that if you owe a debt, you pay that debt, no matter how painful – and make changes to ensure it does not happen again. With this legislation, it is clear that Washington never learned that lesson."

The 2012 Purge. In December 2012, Boehner reportedly purged conservatives from leadership slots in Congress, including Reps. Justin Amash (R-MI) and Rep. Tim Huelskamp (R-KS), as well as Rep. David Schweikert (R-AZ). Amash called the move a "slap in the face." Serious conservatives in Congress have routinely complained for years about Boehner's attempts to stifle their leadership trajectories.

The 2013 Obamacare Shutdown. After Senator Ted Cruz (R-TX) led an effort, along with his allies in the House, to pass a budget that did not include funding for Obamacare – an action that led to a short-lived government shutdown when Democrats refused to sign off on such a budget – Boehner caved, funding Obamacare and reversing some cuts from sequestration. That short-term cave led to a far larger cave just a few weeks later.

The 2013 Ryan-Murray Budget Deal: In December 2013, Boehner signed off on a $1 trillion budget deal with President Obama opposed by many conservatives. That led Boehner to rip those conservative groups: "They're using our members and they are using the American people for their own goals. This is ridiculous." He then went to the floor of the House to drop this bomb:

Frankly I think they're misleading their followers. I think they're pushing our members in places where they don't want to be. And frankly I just think they've lost all credibility. They pushed us into this fight to defund Obamacare and to shut down the government. Most of you know, my members know, that wasn't exactly the strategy I had in mind. But if you'll recall, the day before the government opened, one of these groups said, 'Well, we never thought it would work.' Are you kidding me!? Listen, you all know me. I say what I mean and I mean what I say. I'm as conservative as anybody around this place. And all the things that we've done over the three years that I've been speaker have not violated any conservative principle. Not once.

Boehner's deal raised spending $63 billion, supposedly in exchange for longer-term budget cuts. Rep. Tim Huelskamp (R-KS) said, "It's going to increase spending with promise of spending cuts sometime in the future. At the end of the day, it's going to increase the deficit, it's going to raise taxes and fees, and it's not going to address the long-term overspending problem in Washington." The deal also cut veterans' pensions. Boehner later passed a clean debt ceiling raise and restored the veterans' pensions, effectively raising overall spending.

The 2014 Amnesty Fail. Boehner failed to do anything of substance to stop President Obama's executive amnesty in 2014. Before the end of 2014, Boehner had the opportunity to pass a short-term continuing resolution that would have funded the government through the end of January, allowing incoming Republicans to negotiate department by department after taking office, and slash funding for Obama's executive amnesty. Instead, Boehner pushed through a budget – the so-called "cromnibus," a mash-up of CR (continuing resolution) and omnibus package, for the entire year, including blowout spending levels, except for funding for the Department of Homeland Security, which ends at the end of February. According to Rep. Marlin Stutzman (R-IN), Boehner lied to get that budget passed. "I was informed by leadership that the cromnibus was dead an a short-term CR would take its place," Stutzman said. […]
In 2013, we mentioned that a pretty good guy from Chatham County, by the name of Jim Duncan, was taking a good hard look at the GOP primary for Congress in the Second District.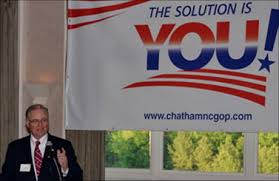 Because of private family matters, that didn't materialize.  But sources are telling us that things are looking better for Duncan in 2016.  If you KNOW the guy, let him know that we need him to step up.  I like what one good friend of this site — a political player who occasionally makes it into the drive by media — had to say about Duncan:
"I had some serious reservations about the guy — until I heard him speak about the situation in this country.  The guy gets mad talking about what's going on in Washington.  He doesn't want or need the job.  He's worried about his country.  He's fired up.  We need that kind of fire up there."